There's now far more to kniphofia (or red-hot pokers) if your only experience to date has been over-used varieties such as 'Atlanta'.
Across the spectrum of the 200 or so species and hybrids, kniphofia flower from spring through to late autumn, with many blooming over weeks.
The torch-like flower heads of tubular flowers in red, yellow, orange, apricot and cream tones, often bicoloured as they age, provide a distinctive character not possessed by other plants. If the smaller varieties are used convincingly in drifts, or rhythmically repeated rather than as single specimens they will always impart drama and impact, looking particularly good in relaxed schemes involving ornamental grasses, and summer perennials such as helenium and salvia.
They are also good for growing in pots.
Kniphofias come from the periodically damp grasslands of Africa, particularly South Africa, producing rosettes of fleshy three-angled leaves of various thicknesses and lengths over a fleshy-rooted rootstock that gradually produces a cluster of shoots.
Some species have narrow grassy deciduous leaves, while others are thicker and generally evergreen. While the leaves of some have visual appeal, others are apt to become untidy and best hidden from view by surrounding plants, so you can just enjoy the flowers.
Although kniphofia are easy to grow, with few pest and disease problems, many take time to establish, even the smaller ones and build up the energy to flower consistently, particularly the case if you purchase small plug plants rather than larger pot-grown specimens. In terms of likes and dislikes they hate hot, droughted positions or constantly damp soils, preferring moist, but well-drained conditions in sun or light shade.
Remove spent flower stems once displays are over and tidy away decaying leaves in early spring before new growth starts to neaten their appearance, when they can also be lifted and divided.
Fact: In their African homeland the flowers of kniphofia are pollinated by birds, often sunbirds and weavers.
Six of the best types of Kniphofia
Alcazar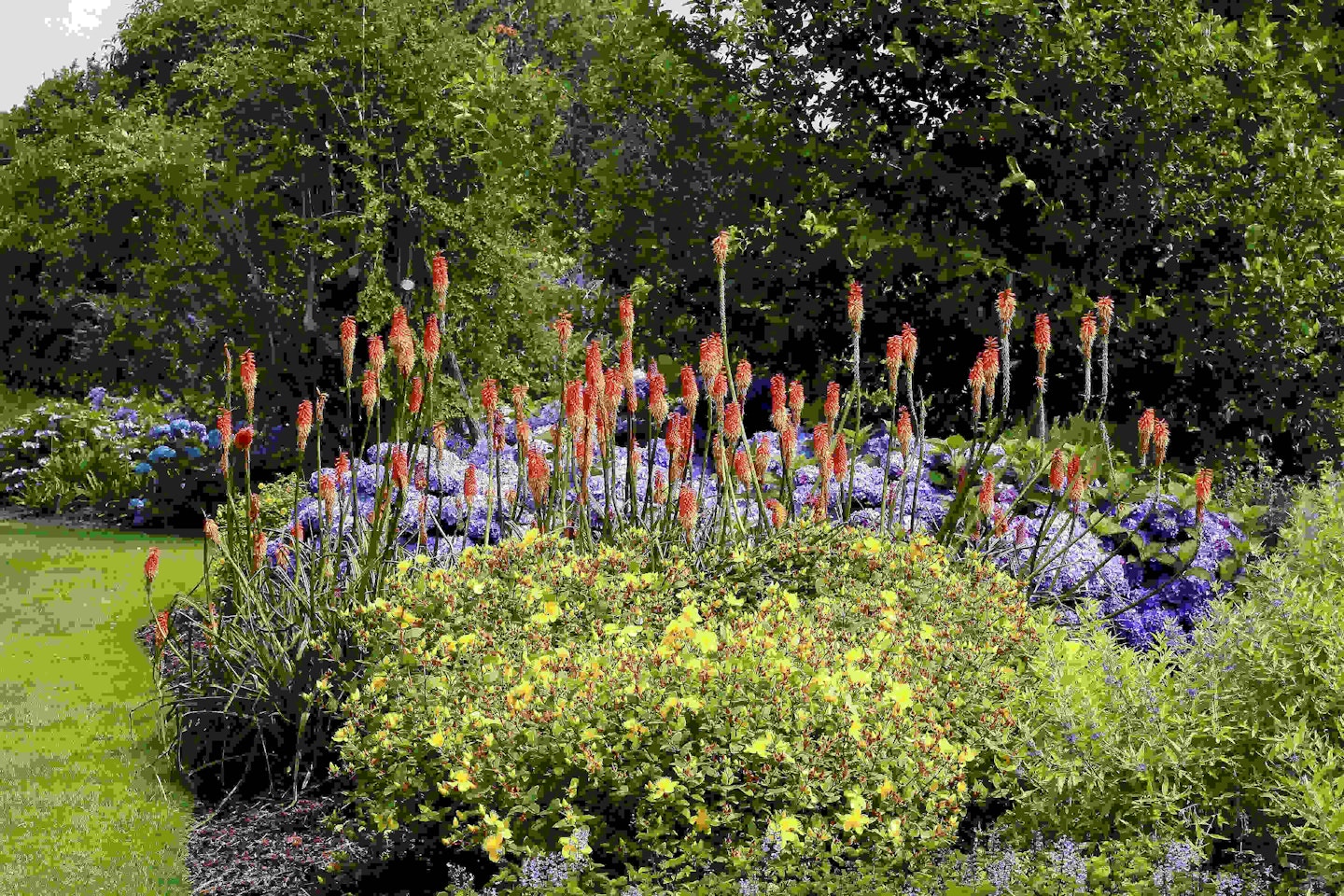 Imposing spikes of yellow and orange flowers all summer. Easy to establish.
H: 1.2m (48in) S: 60cm (24in).
From: www.claireaustin-hardyplants.co.uk Tel: 01686 670342
Ice Queen
One of the palest varieties, with creamy-yellow blooms from green buds. Flowers from July.
H: 1.2m (48in) S: 75cm (30in).
From: www.bethchatto.co.uk Tel:01206 822007
Sunningdale Yellow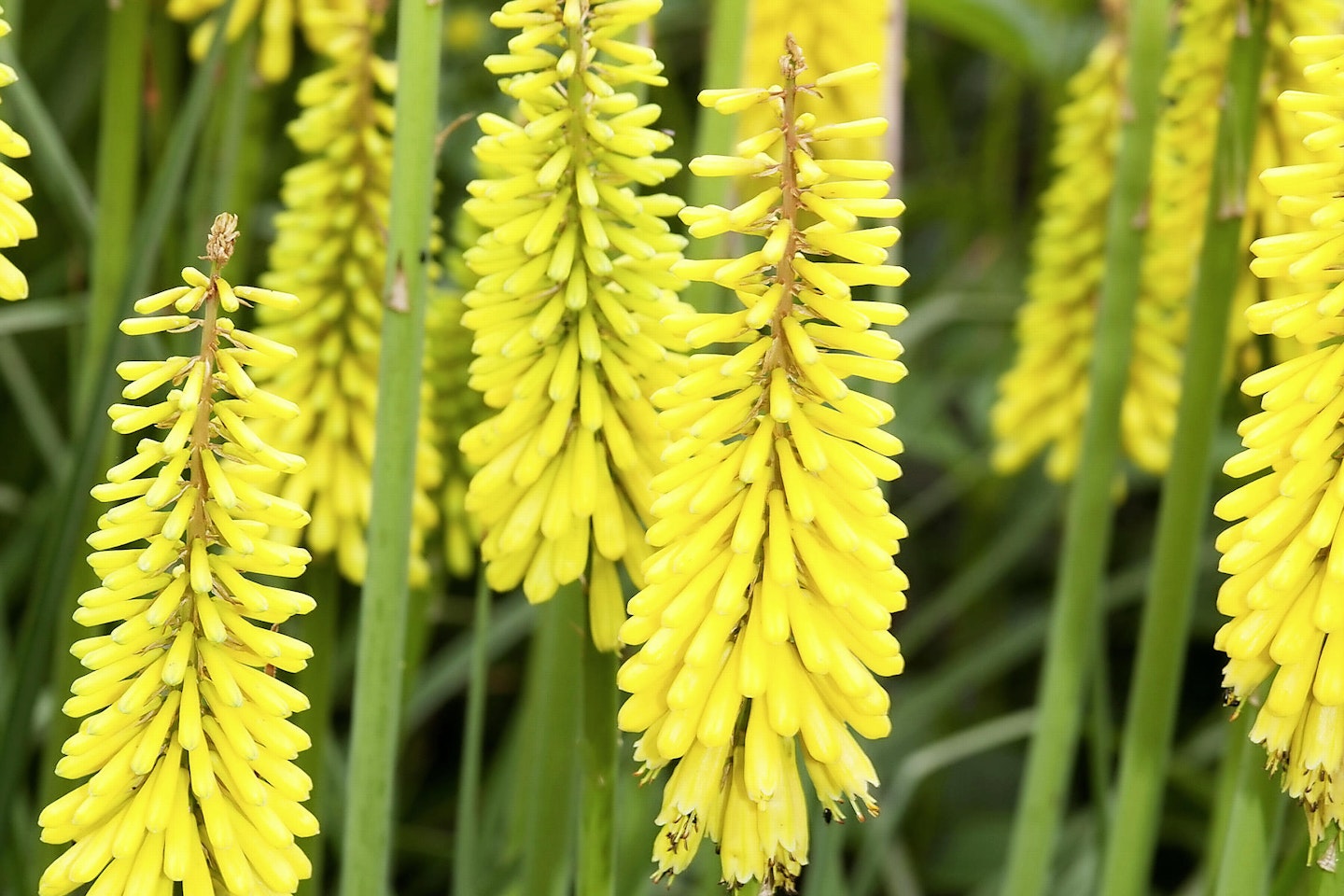 Small, early-flowering variety with slender, bright yellow pokers. Deciduous foliage.
H: 90cm (36in) S: 45cm (18in).
From: www.bethchatto.co.uk Tel:01206 822007
Moonstone
Fat pokers of caramel-apricot on stout dark stems. Semi-evergreen foliage. Flowers from July.
H: 60cm (24in) S: 45cm (18in).
From: www.binnyplants.co.uk Tel:01506 858931
Orange Vanilla Popsicle
Small, compact variety. Striking orange-red to creamy white blossoms. Grassy evergreen-leaves.
H: 45cm (18in) S: 30cm (12in).
From: www.coblands.co.uk Tel: 01452 742445
Tawny King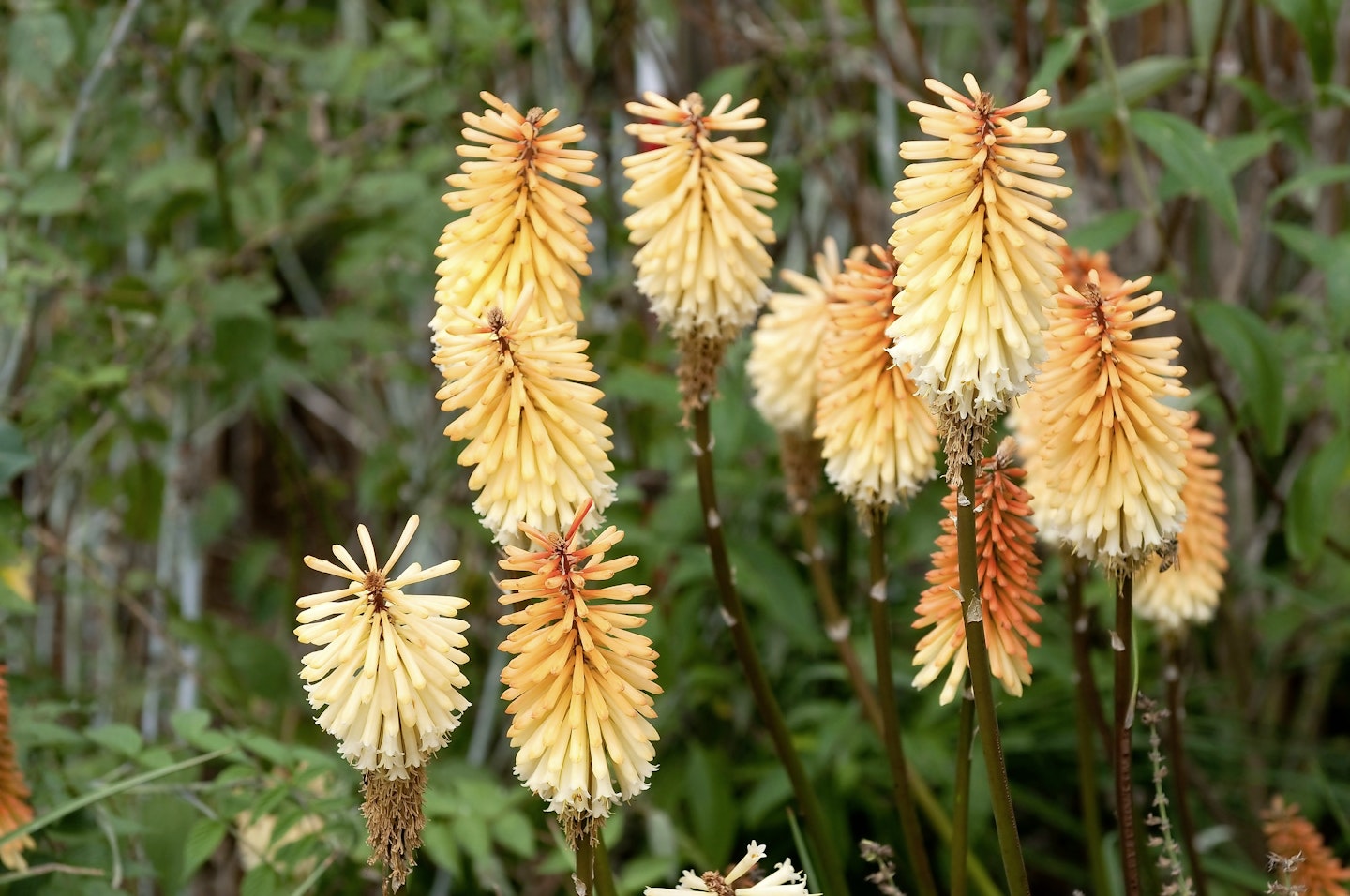 Bright creamy brown pokers fade apricot-cream. Evergreen foliage.
H: 1.2m (48in) S: 0.9m (36in).
From: www.claireaustin-hardyplants.co.uk Tel: 01686 670342