Bamboos can be stunning additions to a garden but sadly their reputation goes before them - they are often seen as being invasive, which makes gardeners nervous of planting them. But while some are undoubtedly prone to spread, this can actually make some of the dwarf kinds ideal for groundcover on banks and wild areas, while others are naturally compact and just form clumps. These ones are perfect as accent plants in the garden and as screens, being much more manageable than lofty conifers.
With a wealth of habits, cane colours and shapes, a variety of leaf shapes and sizes, these hardy grasses will bring beauty to any garden. Most are suitable for containers and their elegance will soften urban garden styles, while they look equally at home in more traditional landscapes. Most withstand windy sites and they're more tolerant of urban pollution than many evergreens, making them a really good choice for screening roads in towns and cities.
Now is the perfect time to give bamboos a try, either in pots or in the garden; their roots are actively growing and new shoots thrusting up from the compost, giving your garden an instant lift. Planting now also allows the bamboos to establish before winter.
Where to plant bamboo
With their delicate foliage and elegant habit, bamboos are natural partners for ponds and lakes but they don't appreciate waterlogged soil. While they may struggle in dry soil, the leaves curling in drought and growth becoming stunted, they will slowly fade away in wet soils.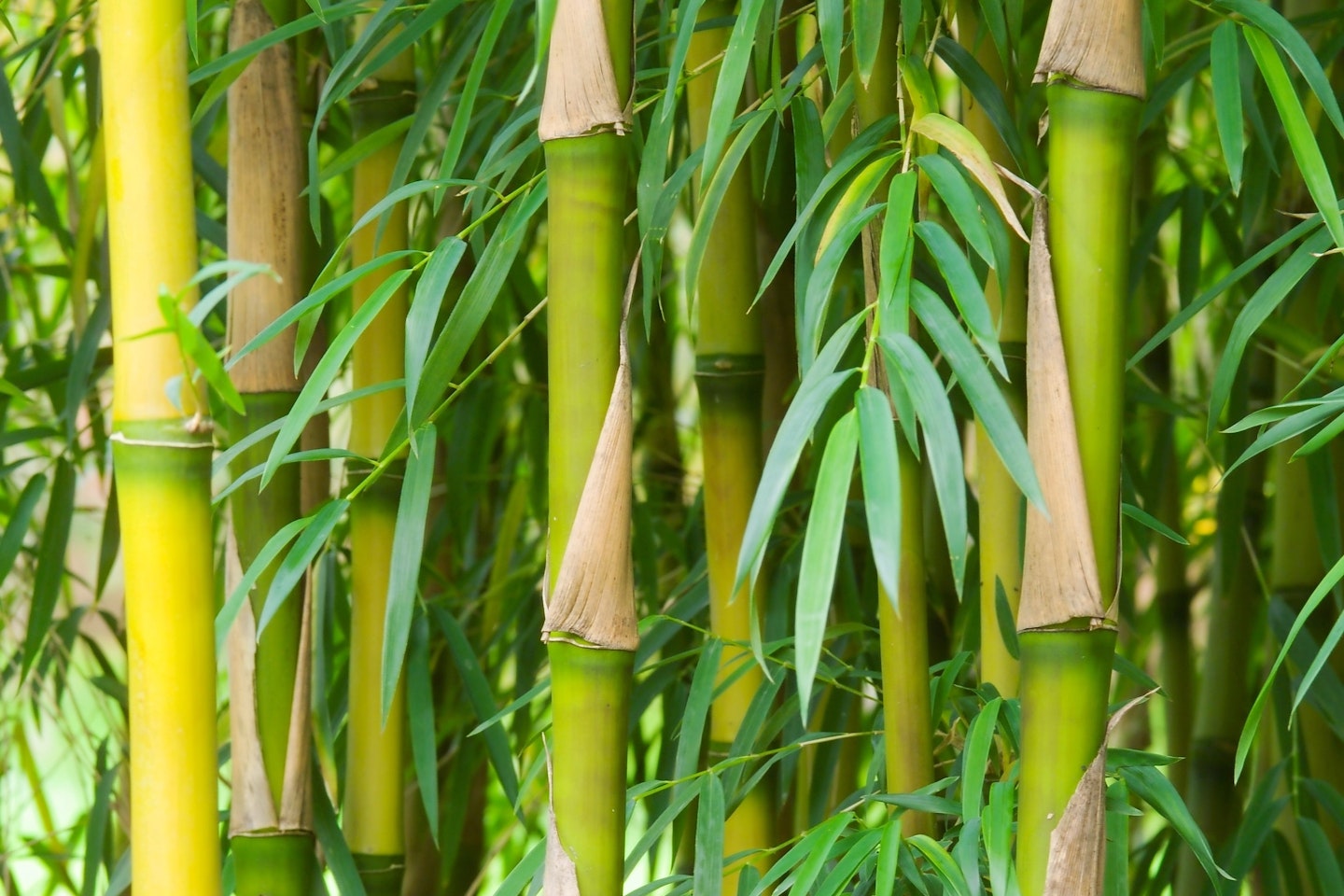 When planting in clay soils, dig in some grit and organic matter. Like most plants they prefer a moist and well-drained soil in full sun, though some will grow well in light shade too. If planting them by ponds, take care to avoid running species which may produce shoots that will puncture butyl liners.
Runners or clumpers?
Some running bamboos produce long rhizomes with sharp tips that can emerge from the soil some distance from the main clump. Some of the more adventurous of these bamboos are arundinaria, chimonobambusa, some phyllostachys, pleioblastus, pseudosasa, sasa, semiarundinaria and yushania. Even these need not be completely avoided – there are ways to control them. You can dig around the clumps every spring with a sharp spade and cut off the wandering shoots or you can plant them in grass, where mowing should keep them contained or beside a wall.
You can also plant them surrounded by a flexible barrier, available from most bamboo nurseries, and is buried so it's at least 30cm (12in) deep and protruding 10cm (4in) to keep the plant where you want it. This is worth the effort to grow some of the most beautiful and interesting bamboos such as Chiminobambusa tumidissinoda, the walking stick bamboo with curious canes and beautiful leaves. Running bamboos can be grown in large containers in the garden to restrict their spread and they lack the vigour of ground-grown, but tend not to reach their potential heights.
Clump-forming bamboos include bambusa, chusquea, fargesia, shibatea and thamnocalamus. The most popular and widely available bamboos in garden centres are Phyllostachys nigra and P. aurea, with attractive black or green canes. They are suitable for containers and the open garden and, although they can run in rich soil and in warm loacations, they are relatively well behaved in most gardens in average soil.
Perfect bamboo for pots
A potful of bamboo brings grace and tranquility to a patio, whether in sun or shade. Their evergreen foliage, that contrasts with their canes is a delight all year. Removing lower leaves to expose the canes as they mature only enhances their beauty, while those bamboos with variegated leaves including Hibanobambusa tranquilans 'Shiroshima' and Pleioblastus viridistriatus provide a colourful highlight.
Choose a pot with a drainage hole that has straight sides and is wider at the top than the base, to allow repotting. Use John Innes No 3 compost which will be easy to rewet if it gets dry and is heavy, to provide stability. Although not necessary in winter, it can be beneficial to stand the pot in a saucer to prevent the compost drying out in summer, which will damage plants.
Both in the garden and in pots, bamboos always look at their best with other Asian plants such as delicate Japanese maples and nandina, the large leaves of fatsia and aucuba, colourful hostas and shade-loving ferns.
Care for your bamboo
Bamboos need little care, but will benefit from a little attention throughout the year. Bamboos are hungry plants so in winter or spring, mulch around the plants with well-rotted manure or compost and in spring apply a general fertiliser.
There's no need to rake up fallen leaves, as they can provide a natural mulch and help suppress weeds. Bamboos naturally drop a lot of leaves in spring when the new leaves expand – there is nothing to worry about as long as it does not continue into summer.
To highlight the beauty of the canes, remove the foliage from the lower sections of the canes in summer after the leaves have flushed.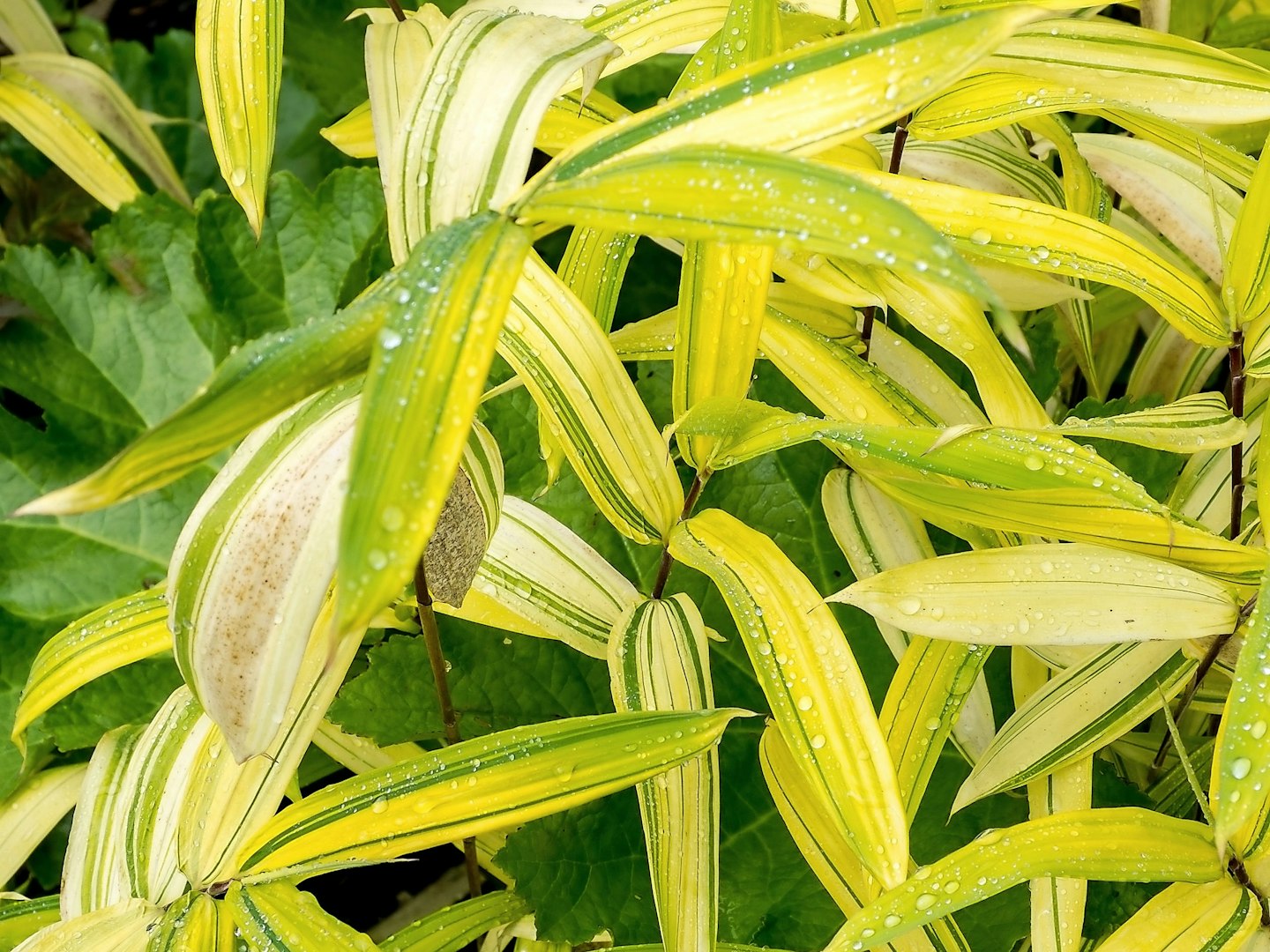 Canes reach their full height in the first year, usually within three months of appearing, and then produce flushes of leaves on these each year. The tops of the canes can be cut off in late summer to keep clumps neat and lower than natural if used as a screen or hedge.
Newly planted bamboos will not produce mature-height new canes for a couple of years, until they are fully established.
In dry periods, irrigate the plants to prevent excessive leaf drop and keep the plants growing.
Four best-buy bamboos!
Fargesia scabrida 'Asian Wonder'
This tidy and clump-forming bamboo is elegant and colourful because the new shoots are tinged with purple and the leaf sheaths are scarlet, providing an unusually colourful accent to the narrow foliage. It is perfect as a screen and for a garden accent and thrives in a pot. Suitable for sun or part shade.
Height 3m (10ft)
Pleioblastus viridistriatus AGM
Sporting glorious leaves, brightly striped in bright green and golden yellow, this short bamboo makes up for its lack of elegance in sheer colour. The large foliage is softly hairy and carried on thin, purple canes that grow up from the soil to form dense ground cover. The young foliage is the most bright and it can help keep the plants fresh to shear the canes all down to ground level in spring, mulching with compost to boost the new, bright growth. Because it is low growing it can be used as ground cover under deciduous shrubs and is an effective way to suppress weeds on slopes. It does run, but the canes and rhizomes are thin and easily cut and dug up if required. It is also among the best running bamboos for pots, especially if repotted every few years to maintain its vigour.
Height 80cm (32in)
Phyllostachys aureosulcata 'Spectabilis' AGM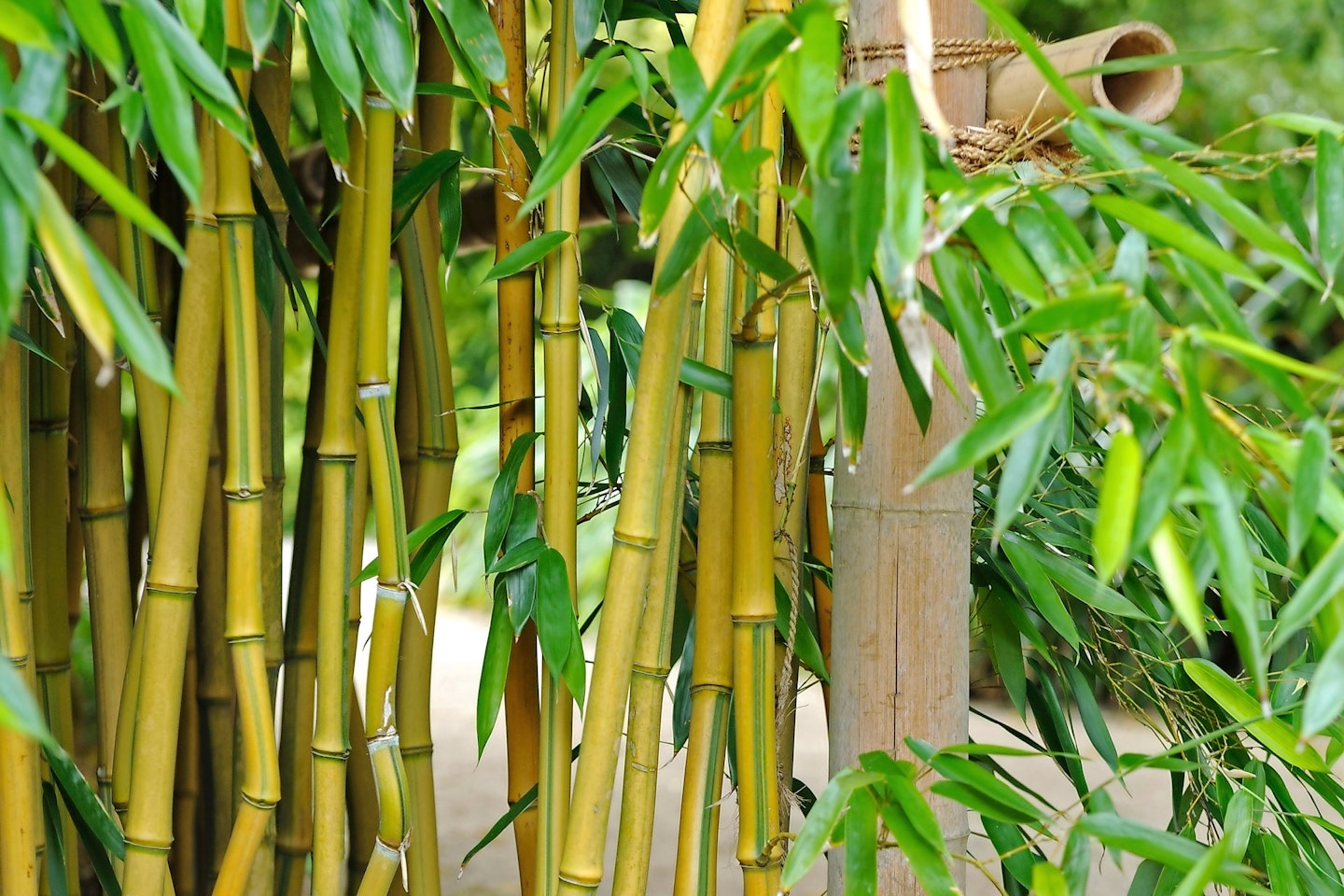 Among so much competition, this bamboo stands head and shoulders above the rest, and not just because it is so tall! Elegant foliage, bright canes and an fascinating growth habit are all part of its charm. It is cold hardy and vigorous and the canes are zig-zagged at the base, perfectly straight higher up. The canes, when mature, are bright gold with distinct green stripes and the foliage is bright green above and greyer beneath, to enhance the effect of the slightest breeze.
Height 5m (16ft)
Chusquea culeou
Sometimes called the foxtail bamboo because of the foliage that thickly encircles the canes, this remarkable plant makes a dramatic feature in the garden. In the first year canes reach their full height but rarely produce foliage. In the second season masses of small leaves cluster around the canes in the upper half and the canes frequently arch gracefully under the weight, giving a plume-like effect. It is suitable for a pot if well fed and watered but is clump-forming and will not run amok in the border.
Height 5m (16ft)