Summer-flowering bulbs –including rhizomes, tubers, corms and crowns too – are probably the most easy-grow, high impact plants you can add to your garden.
They take up little room, take a matter of minutes to plant, and their upkeep is just as minimal. And yet when they bloom – and this goes for pretty much all of them – they light the garden ablaze with colour and life as much as any showy annual or shrub.
All that's required is a little bit of forward planning with summer bulbs, so you plant them at the right time – well, the time is now, so take this as your reminder! It also helps with bright and timely hints in our local garden centres with all the different species available to buy. It's always a sweet shop of delights at this time of year.
Take a look at our top ten guide of some true garden classics, as well as a few unusual picks for something new – happy planting!
Gladioli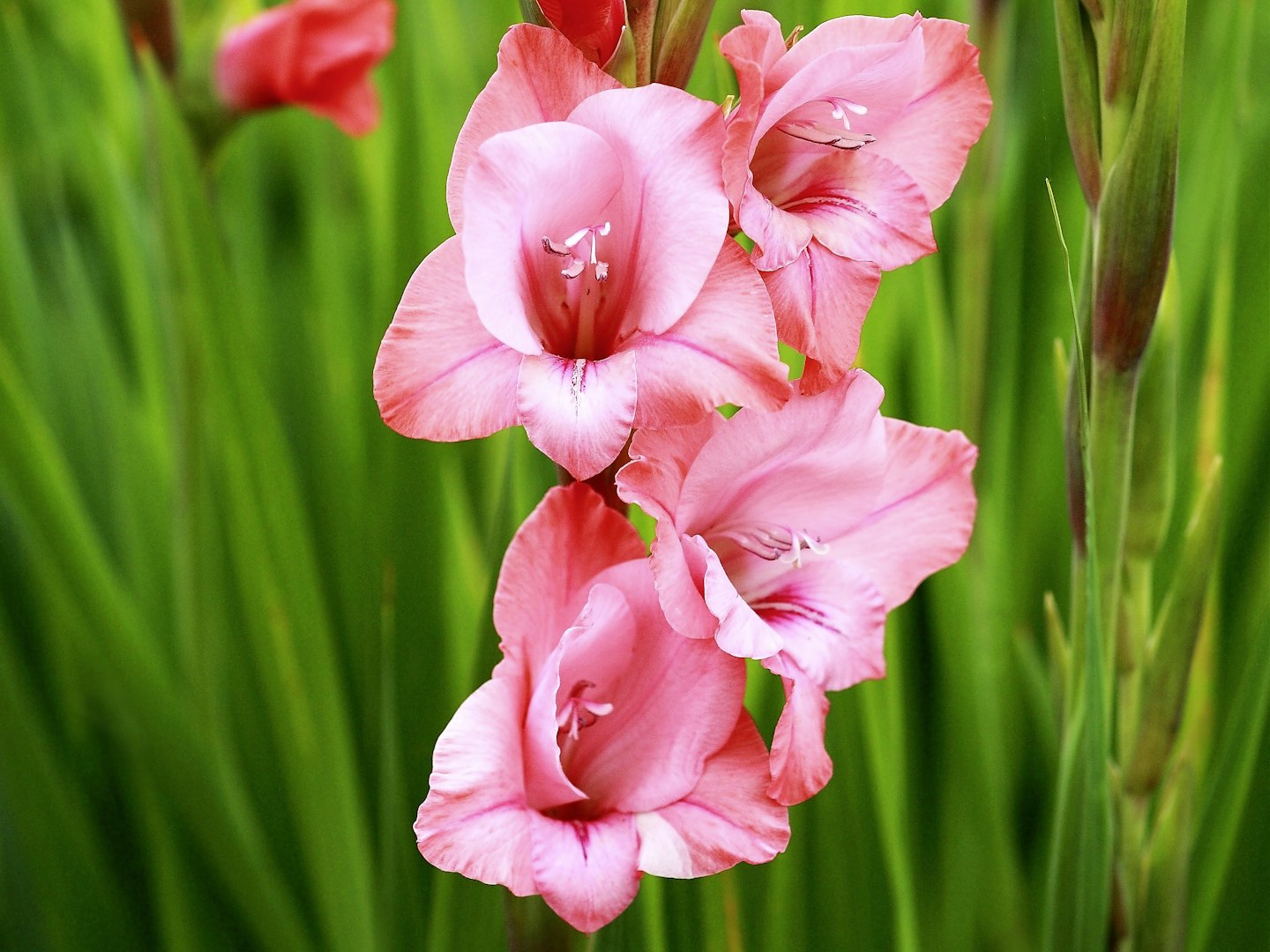 This showy bulb has a bit of a reputation as being the domain of old-fashioned gardens, filling up cottage borders with tall, overbearing frilly pastel blooms. And yet there's so much more to gladioli, and so many more stylish species and varieties on the market. No longer should they be consigned to the bedding bin – many species come in a range of vivid, fashionable colours and sleek shapes and are being used more and more in modern schemes.
TRY: To create a chic look with your gladioli, use contrasting colours so they stand out – deep purples, fuchsia pinks and yellows give the wow factor. Gladiolus communis is perhaps my favourite, as it stands out so brightly with its vivid magenta flowers. Deep red varieties such as 'Zorro' or 'Blackjack' create a different, more muted and elegant mood in your borders.
GROW: Plant corms now in full sun, around 10cm (4in) apart and 20cm (8 in) deep. Add well-rotted manure to the planting hole and keep them well watered. Stagger planting and you'll get successional blooms. Feed with tomato food when plants are established every couple of weeks for bigger, brighter blooms. If you usually lift your dahlias in autumn as you live in a harsher climate, do so with gladioli too.
Crocosmia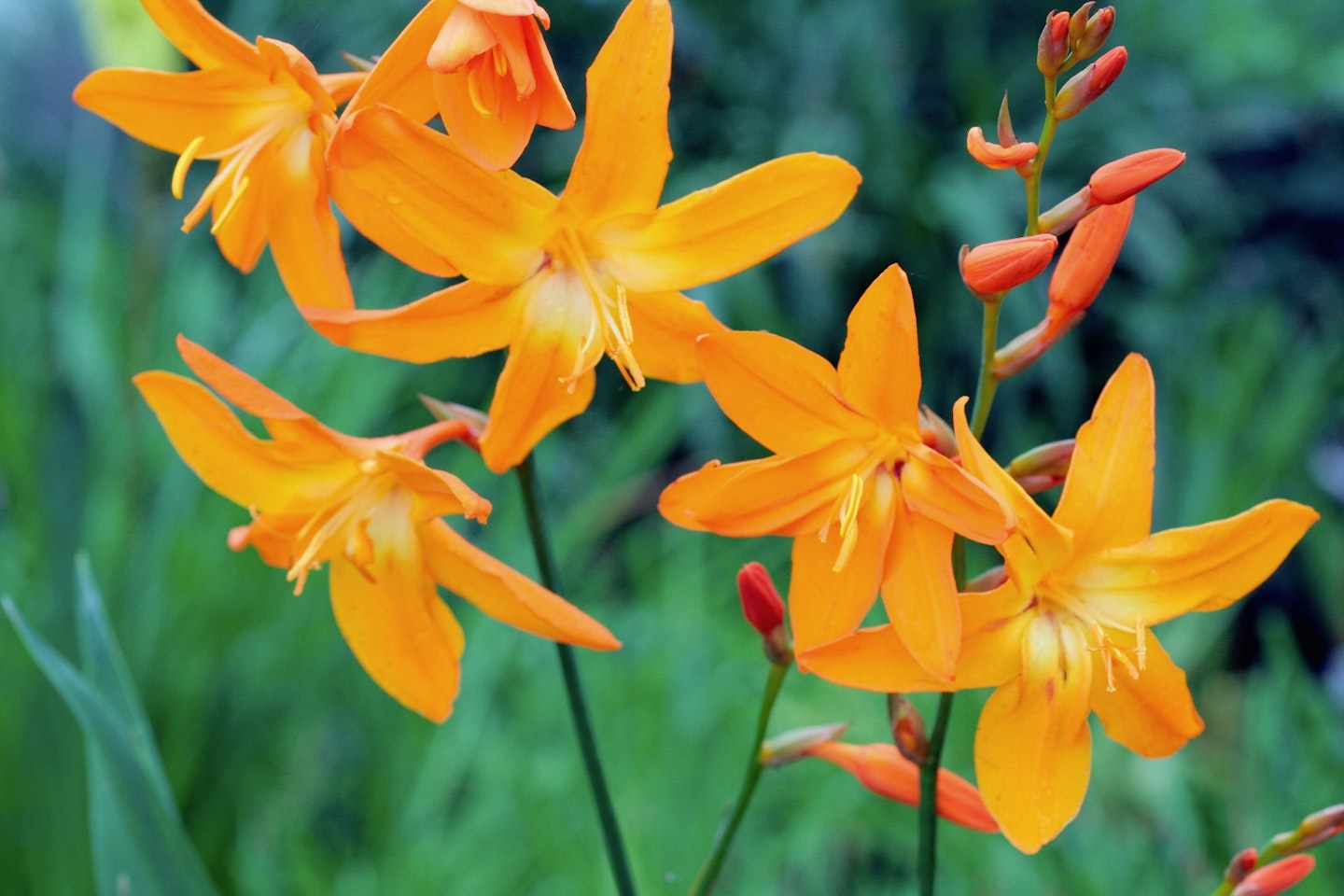 These pretty South African fiery-coloured bulbs have unfurling arching stems in the later summer months, and are fast becoming a common sight in our garden borders. Their colour, usually a spicy blood red-orange with yellow tinges always manages to draw the eye to that spot. Did you know its name is derived from the word krokos, Greek for saffron, and osme, meaning smell? That's because when the flowers are put in water they smell of saffron. They're so easy to grow and will quickly multiply in a sunny border.
TRY: Go for a mix of colours – there are yellow, red and orange varieties available, as well as different flower shapes. Larger-flowered red 'Hellfire' will look superb with orange 'Star of the East', or go for a smaller-flowered bright red 'Lucifer' or 'George Davison' teamed with a yellow variety.
GROW: You might think they would like a hot, dry situation due to how they look, but actually crocosmia enjoy a temperate site more. They do need rich soil, a good bit of sun a day and to be watered well. Try planting them in a group 10cm (4in) wide and 10cm (4in) deep.
Canna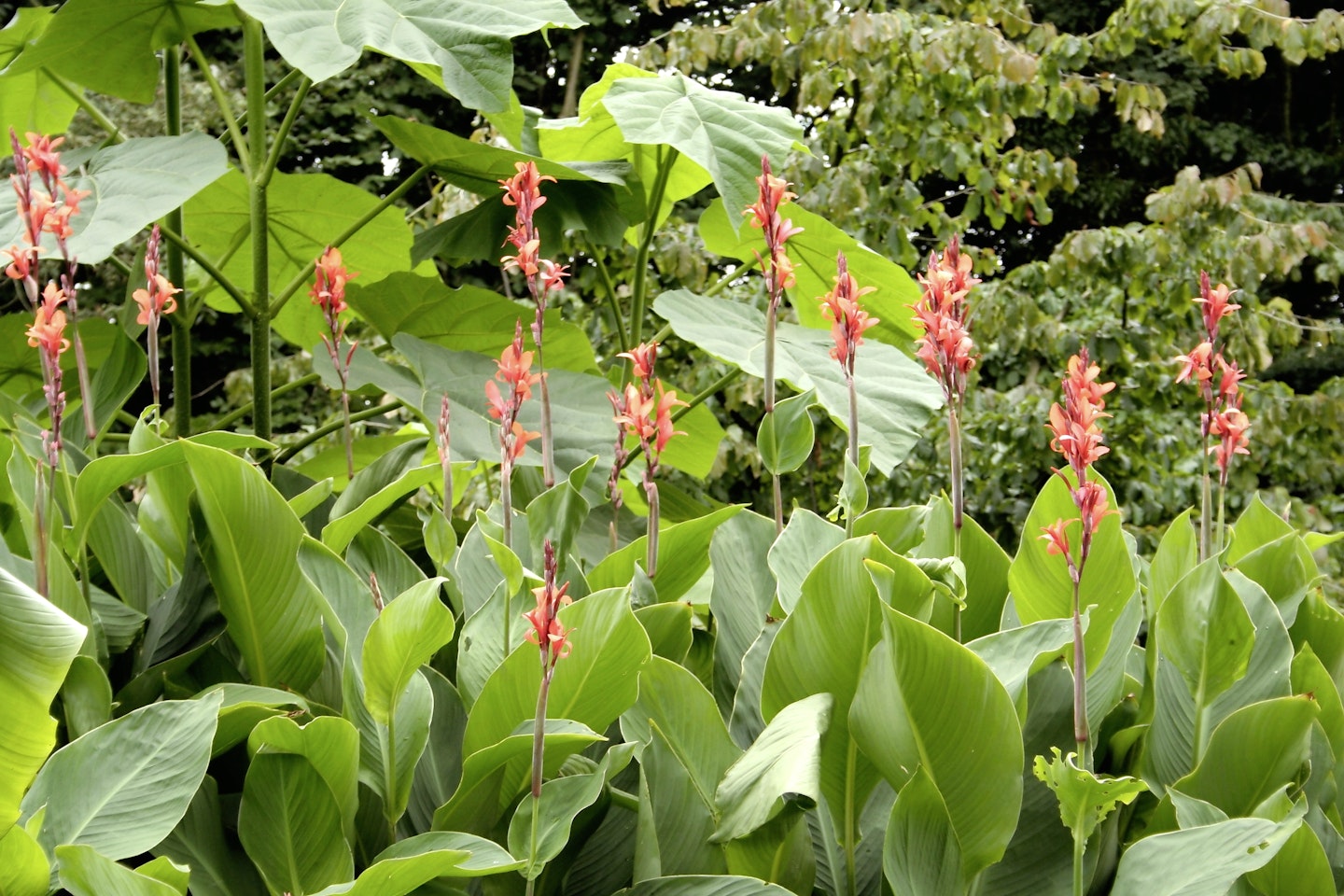 Canna lilies, though not true lilies, may look like they are difficult and too exotic to grow, what with their dramatic large foliage and striking blooms. In fact they are quite easy, as with most bulbous perennials. They're great for creating a colourful tropical feel to your garden – they grow tall and would look great teamed with large ferns or banana trees for your own little jungle. They're a useful, structural border plant that will flower for months and months.
TRY: They're great in large, well-fed containers as well as in the ground. Try 'Durban', a tall green, orange and bronze beauty with red-orange flowers. Black-leaved cannas such as 'Australia' will pair nicely with green-leaved ones such as 'Orange Perfection'.
GROW: You may have some rhizomes that you've bought already to plant up, or some ready-grown plants available from garden centres to get in the ground. Rhizomes may not be widely available now. Pot up the rhizomes you have shallowly and keep them in the greenhouse until frosts have passed, or plant out potted canna plugs then too. Plant them in bright sun and keep them fed with tomato feed every couple of weeks. If you live in a cold area, lift rhizomes until next year.
Tigridia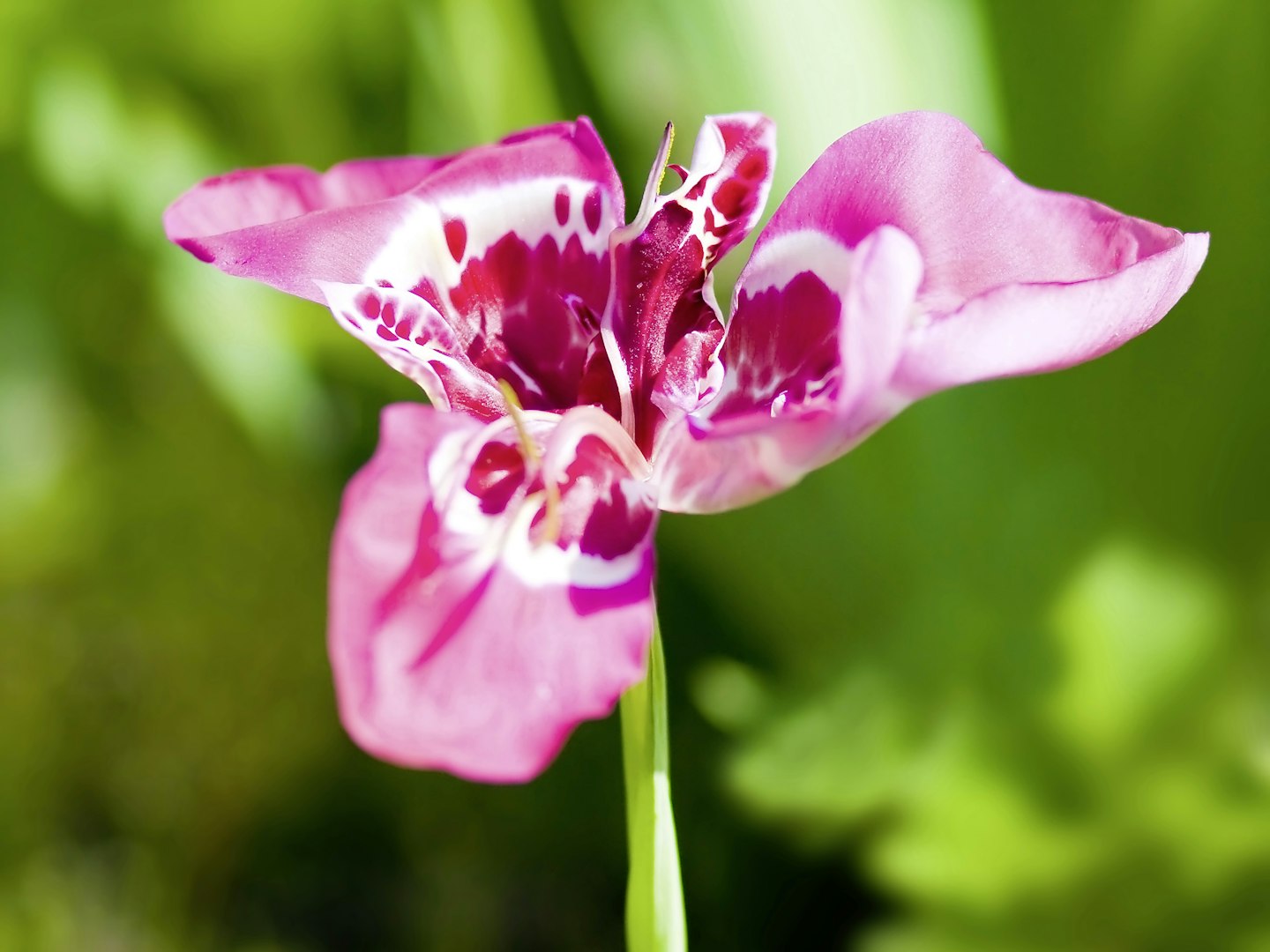 Also known as tiger flowers, tigridia are fascinating and easily available bulbs of Mexican origin. They usually come in mixed packs from garden centres, and will flourish a sunny bed in summer with tall, outstanding flowers. It's often hard to believe that such an exquisite bloom is so easy to plant from a tiny bulb. It's most endearing and amazing feature is that each orchid or iris-like flower only lasts a day! Not to worry though as it produces a succession of them. I like to go out every morning when they're blooming to see what colours have emerged that day and where.
TRY: Tigridia pavonia is the most commonly available, which comes in oranges, reds, pinks, yellows and whites with speckled centres.
GROW: Plant lots of them to create a tight, dazzling display. Tigridia bulbs need lots of water every few days and masses of sun, and should be planted in pots or the ground at 8cm (3in) deep.
Agapanthus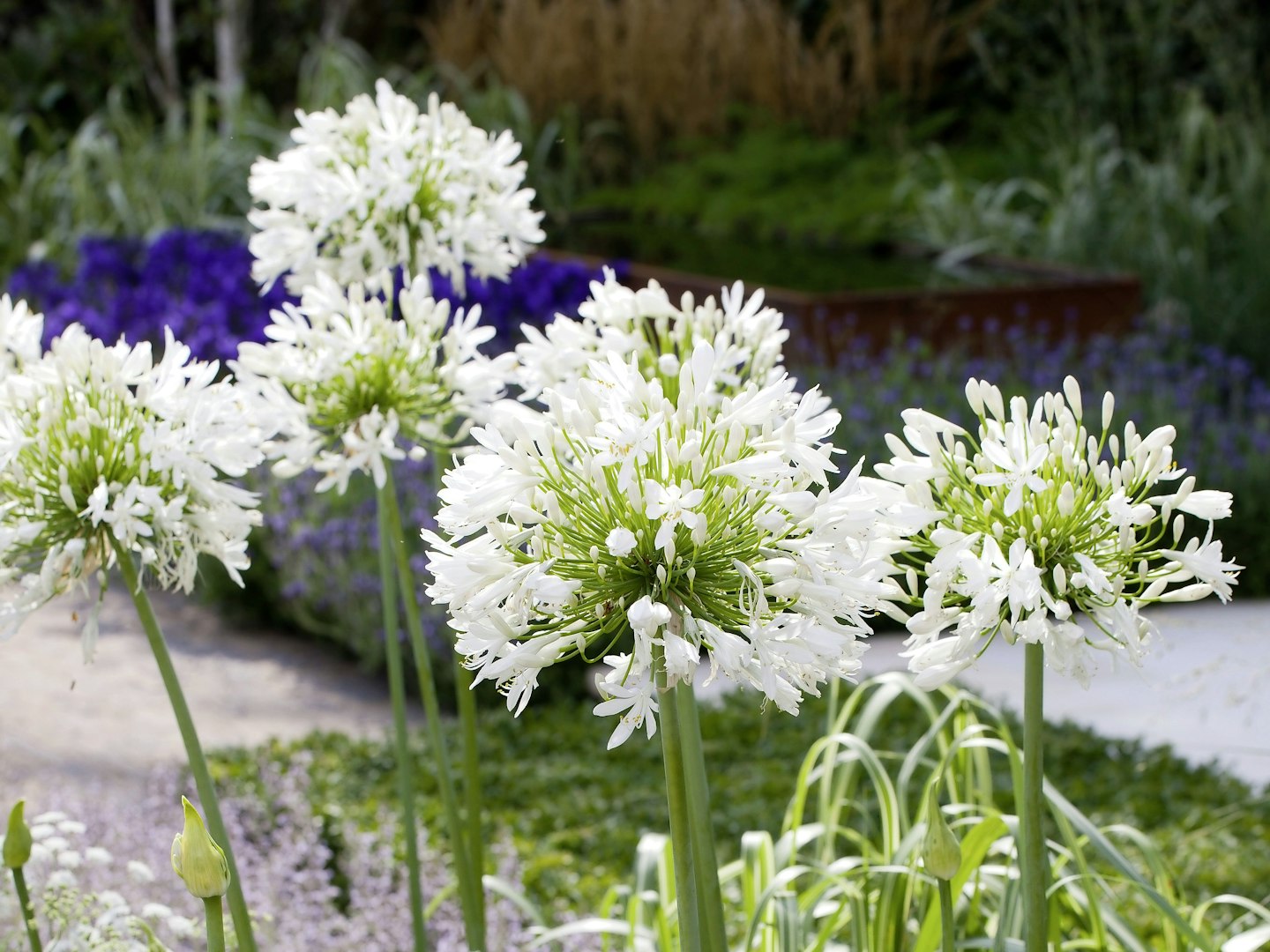 Agapanthus is another South African beauty that we've come to adopt in this country as our own. It is nothing but elegant, with little trumpet flowers making up large bright blue, purple or white globes. They always seem to poke their heads up above other plants in your border, vying for attention – they always get it, too, as their fluffball blooms stand out handsomely from mid to late summer. When they die down in autumn and winter, their ethereal seed heads can be left as a structural feature.
TRY: The variety 'Queen Mum' is relatively new, and its flowers have a pretty purple base and white ends. 'Northern Star' is a vivid blue, while 'Midnight Cascade' is as near black as you can get, with very deep purple drooping flowers.
GROW: Great for pots or open borders, and they like a sunny spot. Plant crowns now 5cm (2in) below the surface of the soil, and be sure to feed them weekly during their flowering period. They'll survive being left in the ground over winter but a covering of mulch will see them through better. They are drought-tolerant plants.
Freesia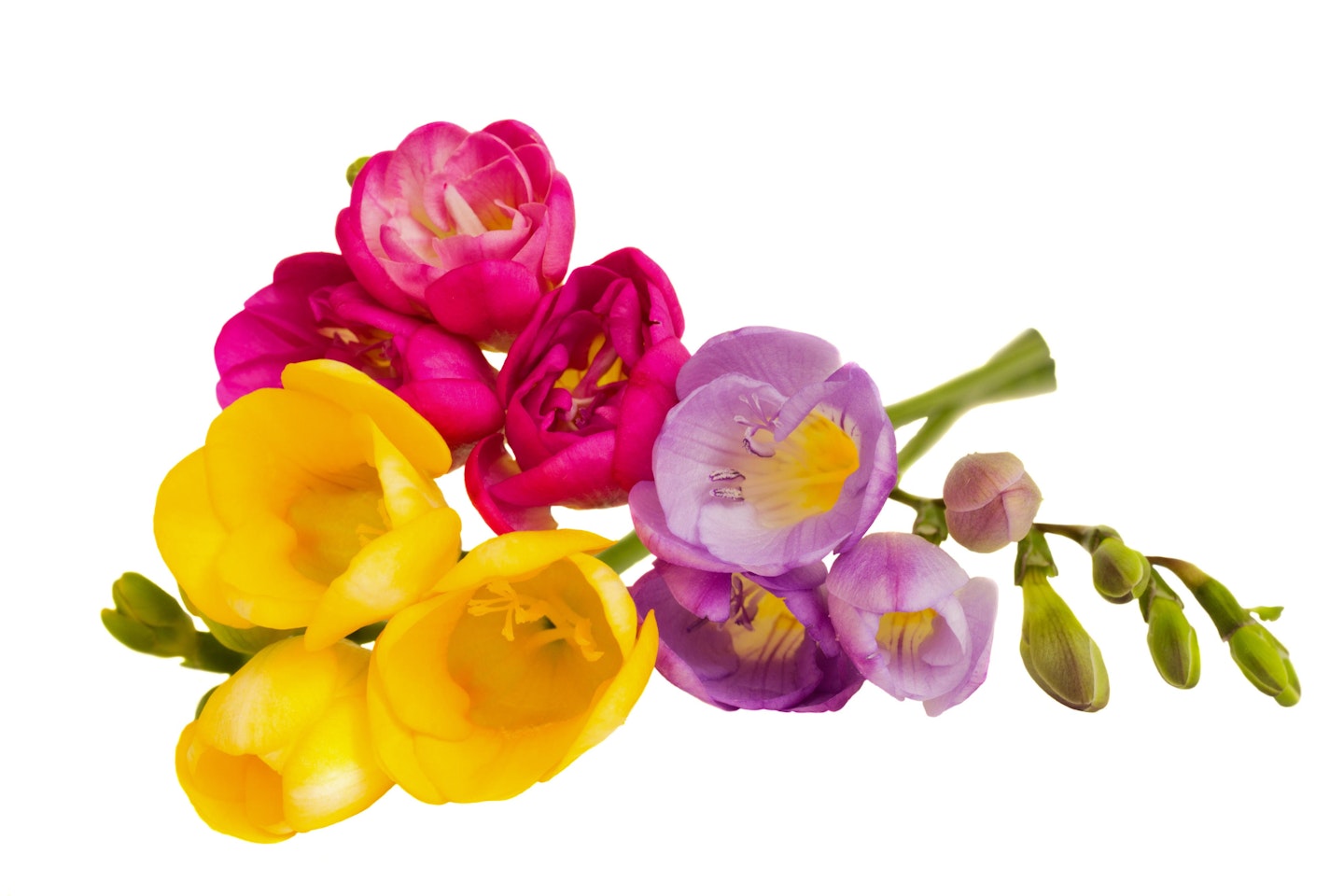 Beautiful shown off indoors in vases, freesias are a classic of the cutting garden. Probably best displayed tightly planted together in a pot on a sunny patio close to the door, you'll get wafts of fragrance when you pass, not to mention dots of the brightest colour.
TRY: Either plant in clumps of single colours such as the variety 'Golden Yellow' for stylish blocks of colour, or as is more usually available, plant up a mixed pack of reds, yellows, pinks and purples to add bright summer colour, all in one pot. Cut them for the vase when the buds are just about to open.
GROW: Plant them now about 4cm (2in) deep and make sure they're in full sun. Feed with liquid fertiliser for better flowering. So you can use them again next year, its best to dig them out the pot and store them in a frost-free, dry place over winter, to be brought out again this time next year.
Dahlia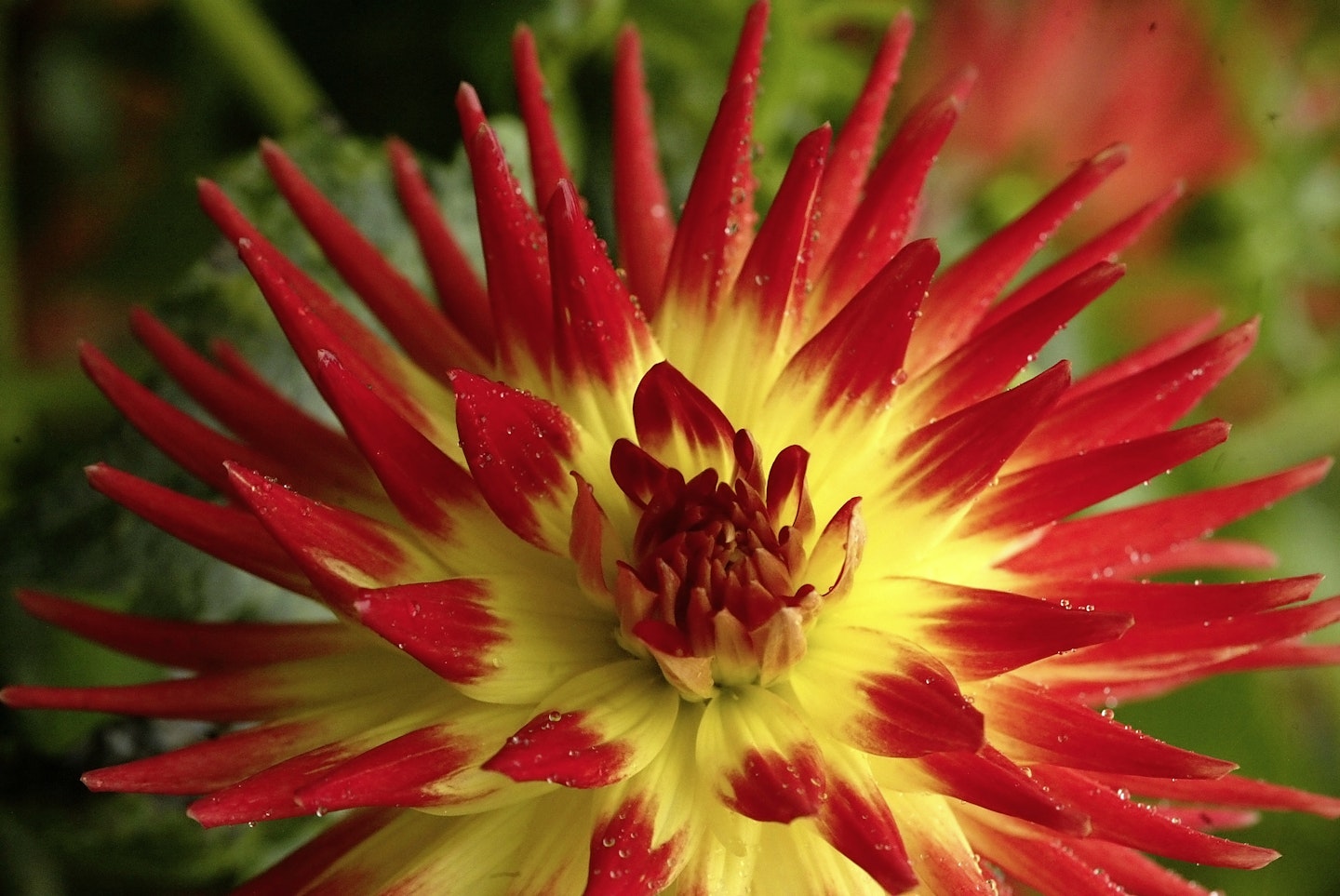 Now we come to arguably everyone's favourite South American bright and breezy bloom. Even though they're one of the best for colour and dramatic display in summer, they're also a rather useful plant – they're drought-tolerant and love a dry, sunny area, so they can almost be left to do as they will in summer. If you go on holiday they will be thriving when you get back! These are similar to gladioli in that they were once the preserve of dated gardens, but now they are enjoying a resurgence in popularity, and rightly so. They could be said to be a rather trendy collector's item!
TRY: There are a great many species and varieties out there – I particularly love the cactus types, but if you are wildlife conscious, go for single-flowered varieties, as bees and butterflies can get to the centres for nectar and pollen. 'Bright Eyes' is a wonderful pink and yellow variety. For the ultimate wow factor, 'Kenora Sunset', named after the sunset of an area in Canada, has a spectacular red and yellow cactus flower burst.
GROW: They simply need a sunny spot in rich soil and they'll come on in late summer through autumn with the most eye-catching of flowers. Be sure to pinch out shoots so the plants become bushy, and stake as they get taller. Feed them with a tomato feed for bigger blooms throughout flowering. Deadhead regularly, and they can be left in the ground over winter in mild areas.
Shake it up a bit! Try these summer stunners for something a little different
Watsonia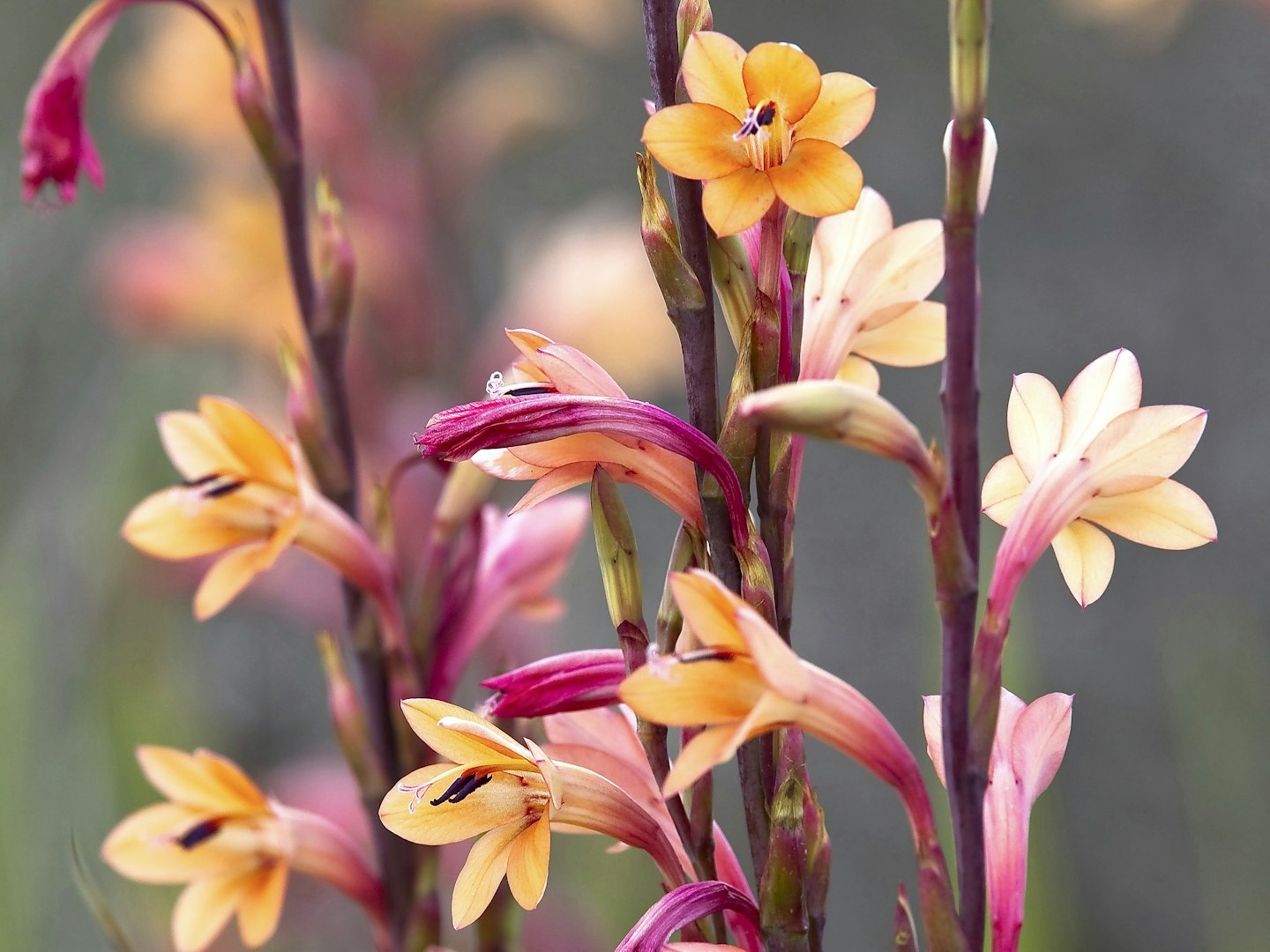 This member of the iris family is wonderfully showy and tender looking, but as it is, once again, from South Africa it is fine for temperate conditions and will tolerate a touch of frost. Fine, bright orange, pink or white flowers on tall spires will add a little something to your hot border.
TRY: Watsonia laccata in the orange form has superb peachy blooms and dark stems, and the pink form is a fresh baby pink with green stems.
GROW: Plant 10cm deep and 30cm apart – it's important this bulb gets full sun. Divide clumps after a few years.
Tulbaghia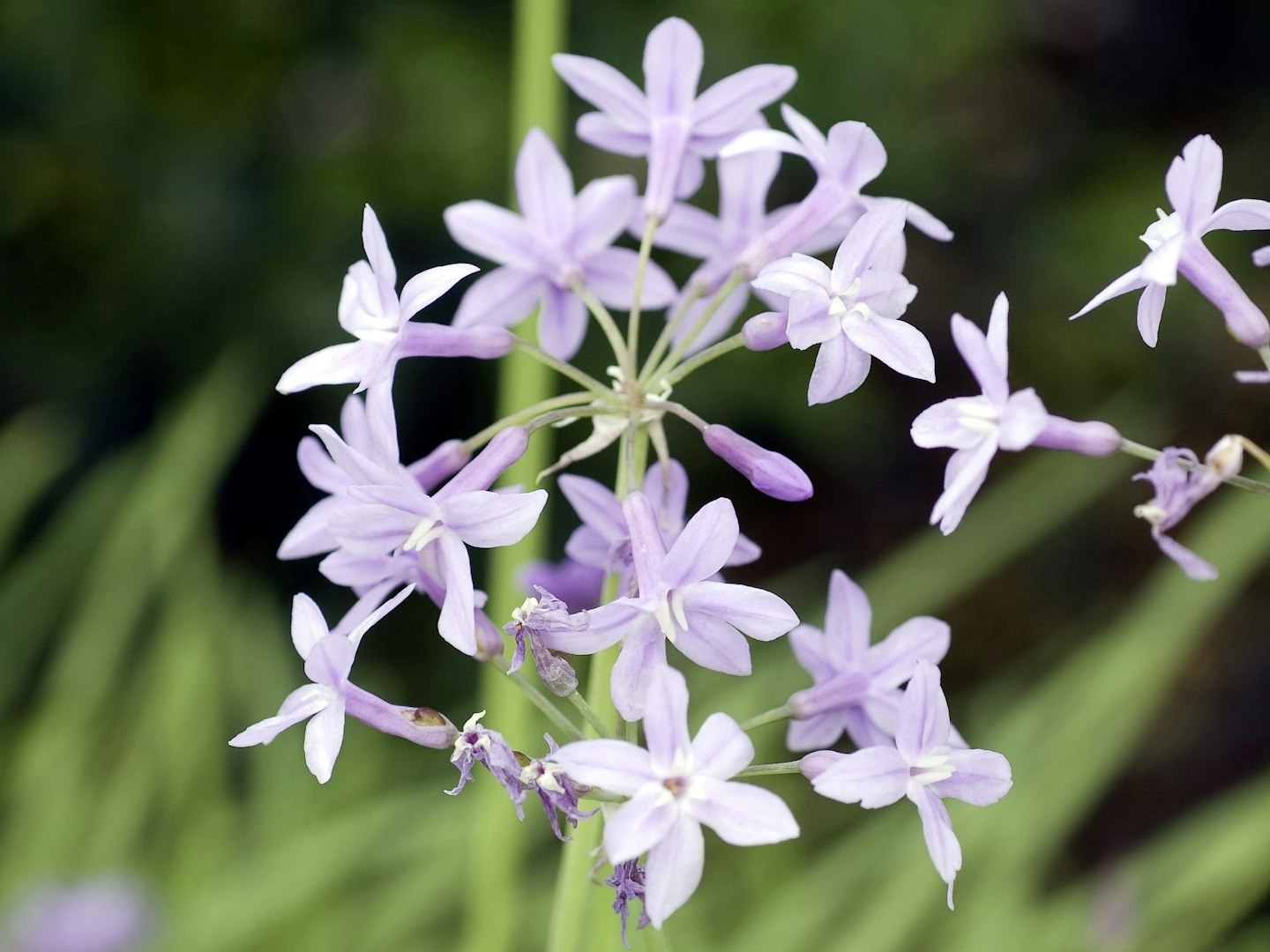 A daintier, unusual bulb, perhaps for a pinky-purple colour scheme as opposed to a hot border. It can look a little like agapanthus, but smaller and more delicate and comes in a dreamy range of lilacs, whites and pinks. It's a good companion plant, as its onion smell keeps pests away.
TRY: It's loved by bees and butterflies, so incorporate it into a rich wildlife plant area. Hayloft (www.hayloft-plants.co.uk, 01386 554 440) do a tulbaghia mixed collection, comprising three different coloured selections of 'Fairy Star', 'Purple Eye' and 'Silver Lace' – beautiful.
GROW: Plant 2.5cm deep and 20cm apart, and these can cope with a little shade. If you remove spent flower stems at the base as they finish, it may encourage flowers until late autumn.
Liatris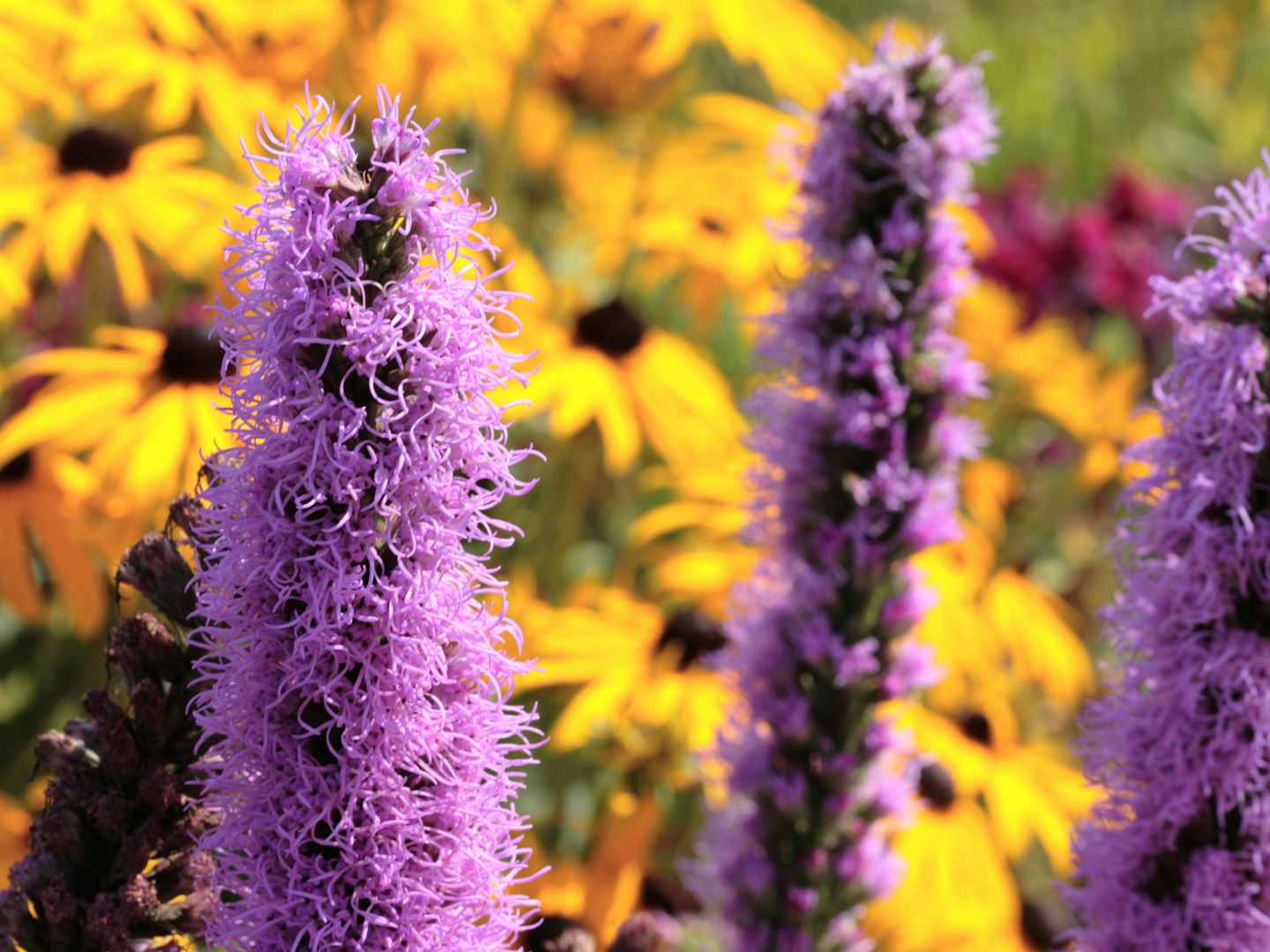 Pretty puffballs of bright purple or white punctuate your garden in late summer. It's another that looks really exotic, but it is really hardy and can withstand temperatures of -20C. Create an unusual cut flower display with some of this tall, spiring perennial.
TRY: Contrast with some dots of kniphofia nearby to bring out its colour. Liatris scariosa 'Alba' is a fantastic white form, while Liatris spicata 'Kobold' is a well-known magenta-flowered variety.
GROW: Liatris likes more moisture to grow well – fork organic matter into the soil where you want to plant it. This retains water for longer during hot dry weather. Likes full sun and well-draining soil or it'll rot over winter.