The fragrance of sweet peas is the scent of summer and their delicate flowers among the joys of the season. A few plants will provide masses of cut flowers and bring colour to your garden so it is no wonder that sweet peas are one of our favourite flowers. They are plants for every gardener: easy to grow by anyone, but if you're up for more of a challenge there are inventive ways to grow them well too.
Whether you want to grow flowers for the local show, have a few cut flowers for a vase inside, bring colour to your patio or mingle fragrant sweet peas to your rose garden, now is the time to start – there is still time to sow seeds or buy seedlings.
These annual climbers have been favourites in our gardens since they were introduced from their native Sicily to Northern Europe in 1699. The early sweet peas had small, unfrilled flowers but were deliciously fragrant. In the late 19th century they were developed into a wider range of colours with bigger flowers and were called Grandifloras, though the flowers are much smaller than the sweet peas we are used to seeing today. The much-loved Spencer sweet peas arose in 1900 as a sport or hybrid of the popular pink Grandiflora 'Prima Donna' and was named 'Countess Spencer'. This had much larger flowers with frilly petals and from this the most of the popular varieties we grow today and all the exhibition kinds were bred.
Sweet peas are annuals and have to be grown every year from seed.
Seeds are large and easy to handle so you can sow them individually in pots so they do not need to be transplanted. They have deep roots and it is traditional to sow them in sweet pea tubes or narrow, long pots.
Sweet pea seeds have a hard seed coat that can impede water absorption and some people like to soak the seeds in water overnight before sowing. Not all varieties need this and seeds with dark seed coats tend to be the slowest to geminate. Soaking can damage the seeds so other people like to 'chip' the seeds either with a knife, chipping away a tiny piece of the seed coat or rub them on sandpaper to allow water to be absorbed.
The seeds do not need a high temperature to germinate and anything above 15c is sufficient.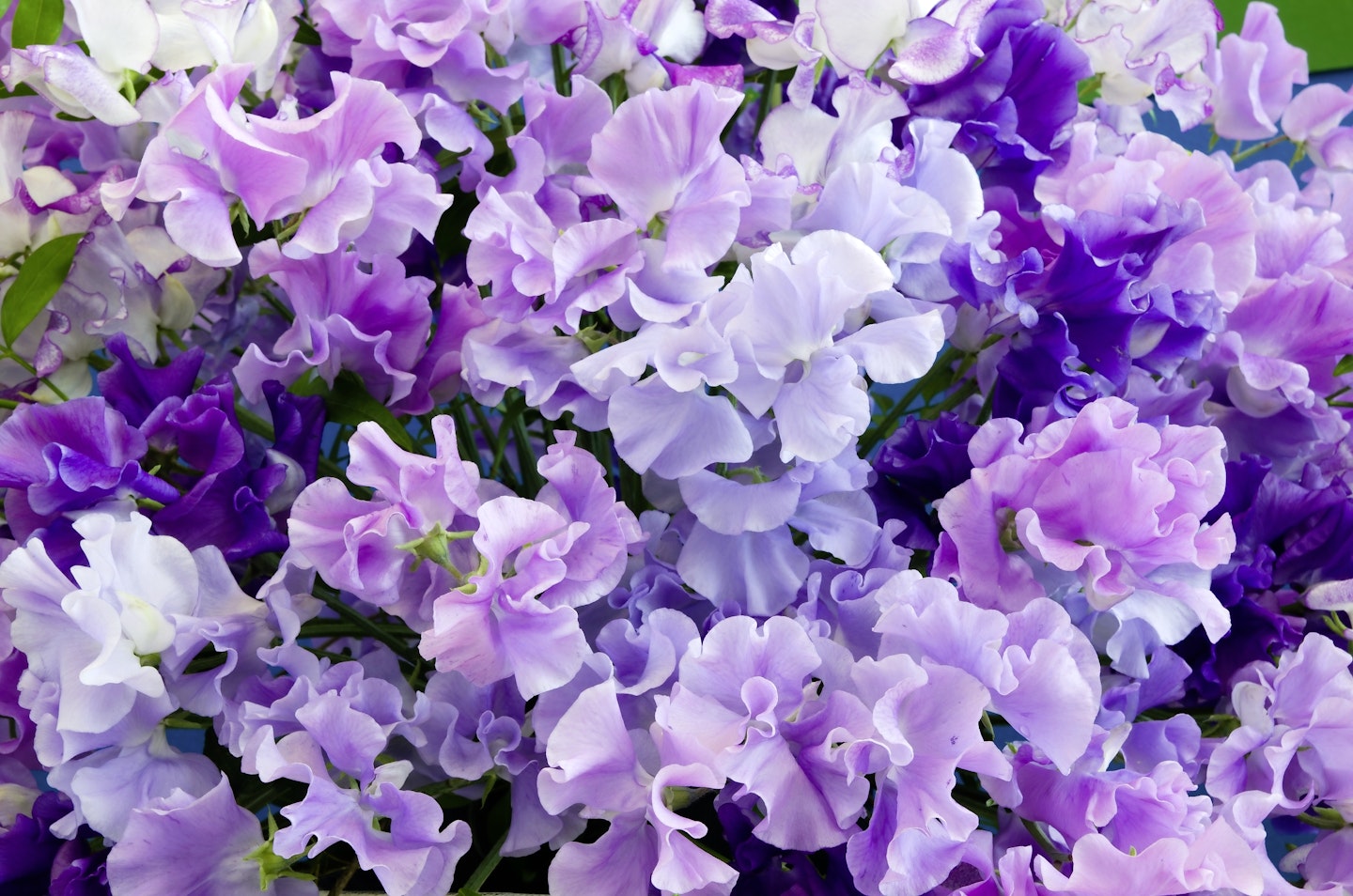 If sowing in autumn, the seedlings must be kept cool and in bright light over winter. A cold greenhouse or coldframe is ideal as the plants will tolerate light frost but must be kept moist. The main dangers to them are mice, which will eat the seeds and seedlings, and slugs and snails.
Whether sown in spring or autumn, they can be planted out in March or April where they are to bloom. Protect them from slugs and snails. Light frost will not harm them.
Sweet peas are not fussy about soil but they prefer a well-prepared soil that has had some garden compost or well rotted manure added and they prefer a slightly alkaline soil. They will grow in most soils as long as you add organic matter and plant them in full sun.
You can also grow them in pots and containers. Use a good quality multipurpose compost or John Innes No 3 compost. Although sweet peas will tolerate a little drought they should be kept watered in dry weather or they will get mildew. In containers make sure they are given weekly liquid fertiliser to keep them growing and flowering.
It is common for the first few flower buds to drop off without opening and this will be most likely in wet, cool weather. Its nothing to worry about and later flowers usually open normally. To keep your plants blooming for longer it is important to keep cutting the flowers If seedpods form the plants quickly deteriorate and stop flowering. So keep cutting your sweet peas for the house.
Bring colour and scent to your patio with sweet peas in pots and hanging baskets too. Dwarf sweet peas are just as easy to grow as other types but need no support and although they are not as good for cutting they will help you enjoy sweet peas all around your garden and home throughout summer.
Ways to grow
You can grow sweet peas in so many ways. Most sweet peas are climbers that will reach 2m or more if they are grown well. These can be planted to grow up wigwams of canes, sticks or hazel twigs or planted to clamber up bean netting or through other climbers over arches and fences. For the best quality flowers and the longest stems, for cutting and exhibition, you need to spend more time training them and grow individual stems up canes (cordons).
The old fashioned, grandiflora kinds have smaller flowers than the frilly Spencers and these are the best for mixing with other climbers or to grow up netting. There are also dwarf kinds that form bushy plants or ground cover and these are suitable for containers and hanging baskets.
Cordon growing
For the best quality sweet peas it is best to grow them as cordons – single stemmed plants.
Sow the seeds in autumn and when they have about five leaves pinch out the tips of the stems. Of the sideshoots that result, remove all but the strongest. The soil should be well prepared and canes erected so they are about 40cm apart to give each plant room to grow.
Plant out the seedlings in March or early April. It is important to train the plants carefully and remove the tendrils at the ends of the leaves. This is to prevent the plants getting tangled and concentrates the plants' efforts into making big leaves and strong flowers. As the plants grow tie them to the canes or use wire rings. This will need to be done at least once a week as the plants grow.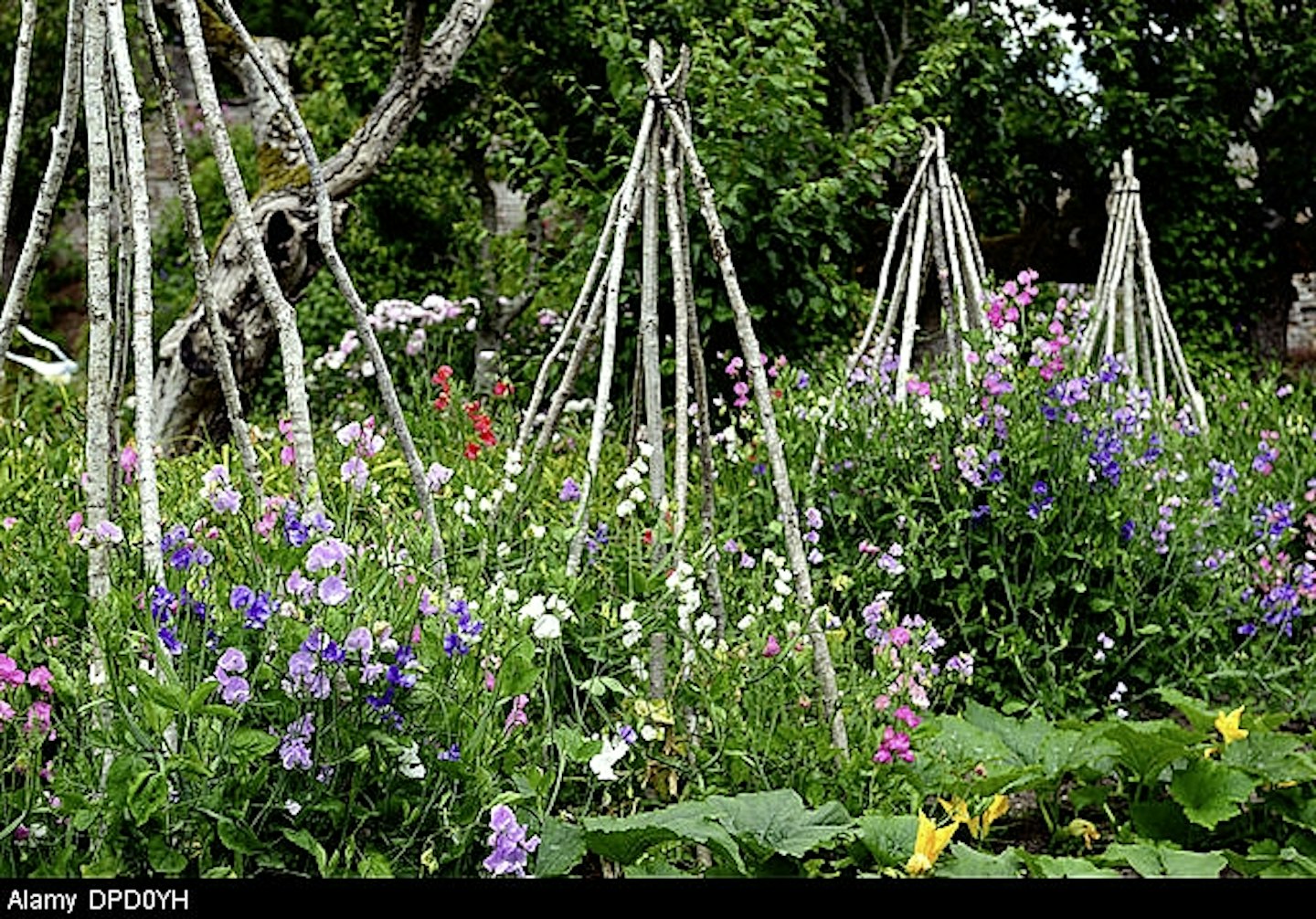 As the plants get older, remove sideshoots as they appear, while they're small. Keep the flowers cut to prevent seeds from forming. When the plants reach the top of the canes they can be layered. To do this you have to untie the plants (it is easier if you have used wire rings) and lay them on the ground along the rows. Then train them up another cane so most of the length of the plant is along the ground and tie the top 30cm or so up the new cane. This allows you to get 4m of growth from the plant and extend the season of flowers.
Spring sowing
Many growers will sow in October/November. This allows the plants to grow slowly through winter and form strong roots, which are generally considered, give the plants a head start in spring. But you can also sow them in spring. It is worth sowing them in individual, small, deep pots. If you are growing them up netting or wigwams, sow three or four seeds per pot and plant out as a clump but if you are growing them up canes as cordons then sow them in separate pots. For most purposes sowing in spring is fine but give them a chance to make good roots.
Best for scent
'Heaven Scent' - long-stemmed flowers of cream with a pink flush and very fragrant

'Hi Scent' - medium-sized blooms of cream edged with blue. Very fragrant

'Painted Lady' - old-fashioned variety with small flowers in red and white. Heavily perfumed

'Fragrantissima' - a mix of bright colours specially selected for their rich scent
Best for containers
'Dwarf Explorer' - a mix of low plants with few tendrils. Wide range of colours

'Pink Cupid' - low, spreading plants with pink and white flowers on short stems with rich, old-fashioned fragrance

'Solway Velvet' - short, compact climbing plants with masses of maroon flowers

'Sugar n Spice' - a mixture of colours, all richly scented, on plants that are short and ideal for hanging baskets

'Bounce' - a nice intermediate sweet pea, about 60cm high, in a wide range of colours

'Cherub Northern Lights' - a pastel colour with hints of pink and blue on white. Low and ideal for tubs
Best for cutting
'Charlie's Angel' - large, frilly flowers in soft lilac blue. Good scent

'Erewhon' - an unusual combination of mauve and lilac - a show stopper

'Promise' - long stems with pink and white, very fragrant flowers

'Anne Gregg' - creamy white, frilly flowers that mix with every other shade. Good scent

'Champagne Bubbles' - a beautiful combination of pink on ivory. Well scented
Something unusual
'Pandemonium' - large flowers of pinkish red striped and flaked with white

'Firecrest' - bright red, scented flowers that do not fade in the sun, which is usually a problem with red sweet peas

'Turquoise Lagoon' - an unusual mix of colours as the pink flowers age to turquoise

'Prince of Orange' - an old variety that still surprises with its waved flowers in shades of tangerine and mango

'Blackberry' - dark, velvety maroon flowers with a rich scent