A sustainable, cheap and eco-friendly option for patio pots is to try growing some long-term perennials that'll come back year after year. Here's our pick of the pack for year-on-year endurance and colour.
Verbena rigida
Perennial verbenas are very popular at the moment, particularly V. bonariensis, a tall, elegant and robust border perennial, with lilac flowers that butterflies adore. For pots, however, they're too large and gangly to work – they sit best at the back of a border, standing tall.
Its compact cousin, V. rigida, is just the ticket though. It's not supposed to be very hardy, but I find, planted in a large terracotta pot in relative shelter and good sun, that it comes back well every year.
It flowers for a long time with striking blooms of neon purple, swarmed by hoverflies all summer, and you can take cuttings of it in late summer. Its flower heads and stems then crisp up beautifully – and also serve as weather protection – and can be left till spring for a trim. Plant it in well-drained multipurpose compost.
Compact roses
Certain roses grow spectacularly well in pots, such as the rose pictured, called 'Pretty Polly', a repeat-flowering patio type.
Deep pots are needed, along with loam-based John Innes compost, good watering and a good feed of granular rose food, and a mulch of compost twice a year. Topdress every spring with a new top layer of compost in the pot, too. Prune as normal, and get into a routine of yearly rose care and you'll have beautiful blooms from the same pot many years running!.
Other roses that grow well in pots include 'Gabriel Oak', 'Magic Carpet', 'For Your Eyes Only', 'Bella Rosa' and 'Darcey Bussell'.
Salvia nemorosa
Usually the preserve of airy perennial borders, these poker-straight salvias bloom skywards in variations of purple and pink, beloved by bees.
Pop a plant in a pot and it'll flower just as well as in a sunny spot in the garden if you give it a spring feed and make sure it's well drained. Trim back spent flower stems as and when and they'll spring back soon enough with more flowers.
Hardy geraniums
Can you get a more amenable perennial to grow in a pot? From spring to autumn geraniums billow forth with attractive foliage and a seemingly never-ending display of lovely simple flowers.
Some geraniums (or heronsbills and cranesbills) are evergreen or semi-evergreen and will look good in autumn and winter for foliage too. A good-quality, well-drained multipurpose compost will do just fine. Just trim back straggly stems when needed.
Hostas
Large, specimen hostas pack a real punch on the patio. Stood in a large terracotta pot they look so classy – particularly the big-leaved blue ones such as 'Bressingham Blue' or 'Big Daddy. Large variegated ones look a real treat too.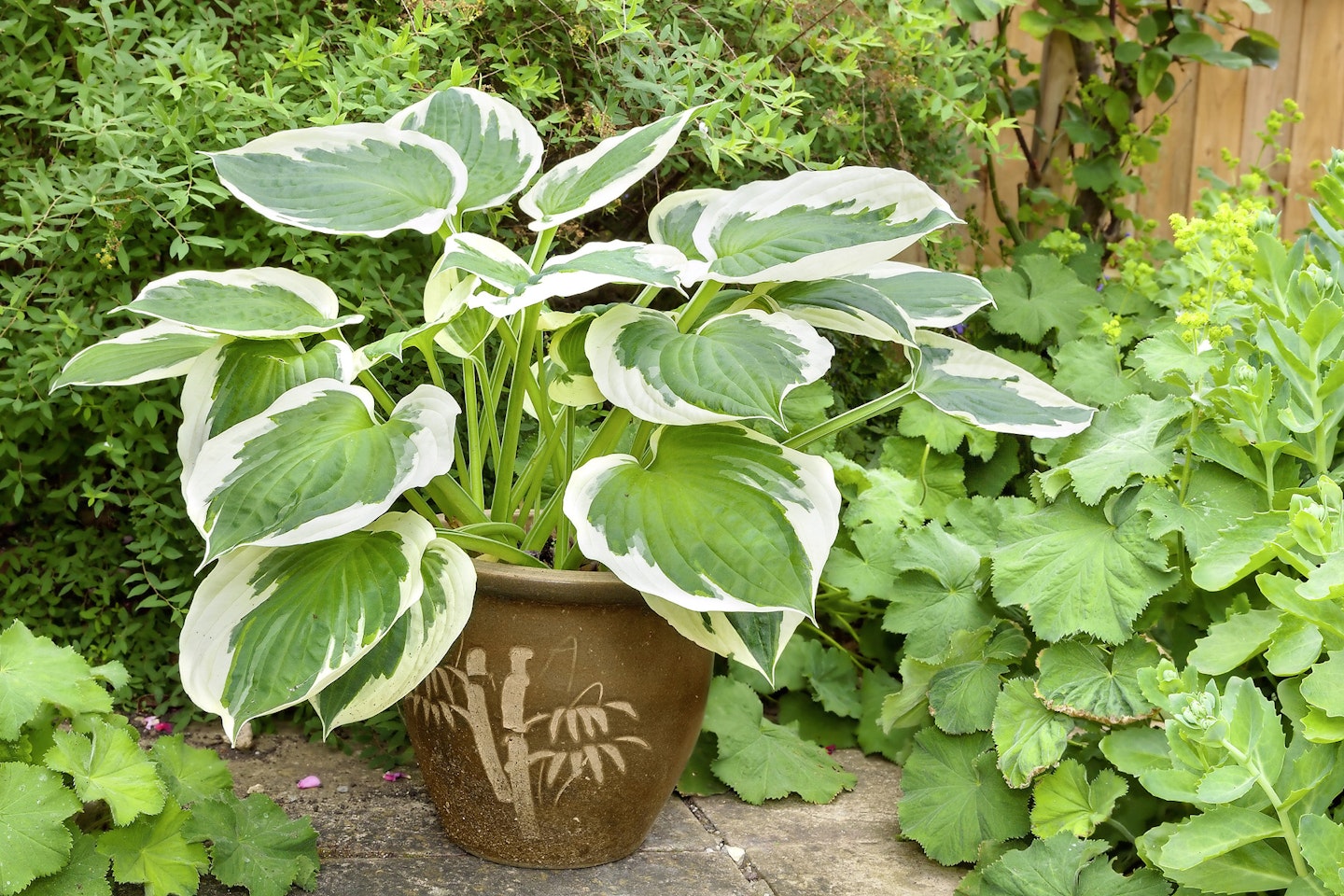 Slugs will avoid tougher, thicker-leaved hostas, though – often the preserve of the big blues. Use a loamy John Innes no.3, and keep pots moist in part shade.
Grasses
Many grasses are almost no maintenance in pots – they're simply happy with what they're given, filling the pot nicely and looking statuesque most of the year, if not all.
Anemanthele lessoniana (formerly Stipa arundinacea) is one such beauty, growing perfectly in a pot with droops of hair-like stems looking good all year round. It simply needs a bit of a comb in spring to get rid of straggly bits.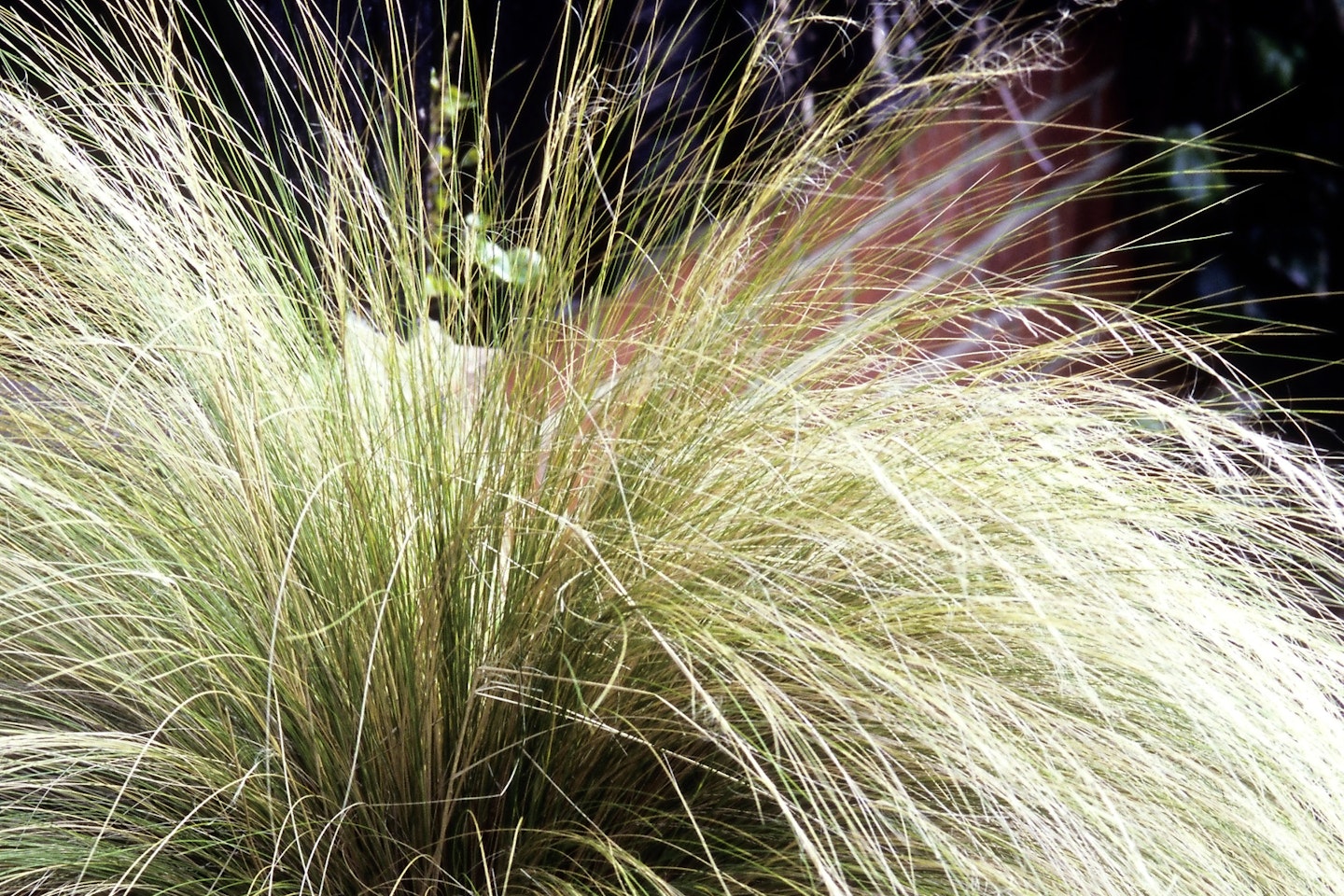 They're just so easy to dot around your pot collection to add airy lightness to the overall look.
Euphorbias
Along with fellow ubiquitous spring and summer perennial erysimum 'Bowles Mauve', euphorbias are just such great value and very easy-going. Both look great together from spring into summer – while erysimum flowers keep going, euphorbias go over come summer but still stay intact, and look just as good.
Most euphorbias are evergreen and hang fire in a pot, looking the same for years on end with the added bonus of their spring-summer flowers.
Buddleja
Huge buddleja bushes get very big and tatty, despite being wonderful for butterflies. And it's not many of us that has the room for these 'railway embankment' blooms.
And then along comes the patio buddleja, to bring an altogether more elegant look to this fantastic, robust plant. You can get the 'Buzz Collection' from T&M, or the buddleja 'Petite Collection' from the GN shop.
They stay as compact plants, especially for pots, and don't spread about.
Top tips for perennial pot plants
The trick is to choose plants that either flower for a long time or have gorgeous foliage for much of the year, if not all.

Choose plants that are relatively easy-going in the border and they'll usually perform well in a pot too.

If your perennial has come to the end of its life in a pot and needs more room perhaps, feel free to plant it in the garden for an extra lifeline.

Perennials will initially cost more than bedding to start with, but if you buy decent plants and good quality pots, you'll not have to fork out much over the following years.