Travel back in time and the nation's front gardens were a source of pride. Lawns were manicured, borders crammed with beautifully scented roses and bedding displays were the talk of the town.
Fast forward to now and many front gardens are in a sorry state. RHS-commissioned polls found that three times as many front gardens are now paved compared with 10 years ago.
Plant cover in front gardens has decreased by up to 15 per cent, with over five million front gardens containing no plants at all. Four-and-a-half million front gardens (one in four) are now buried under concrete and used as off-road parking.
During much of the year, we see more of our front gardens than the rear – every time we leave the house or return home. And the benefits of front gardens are huge: experts say front gardens with a good balance of plants and landscaping can provide homes for up to 260 species of wildlife.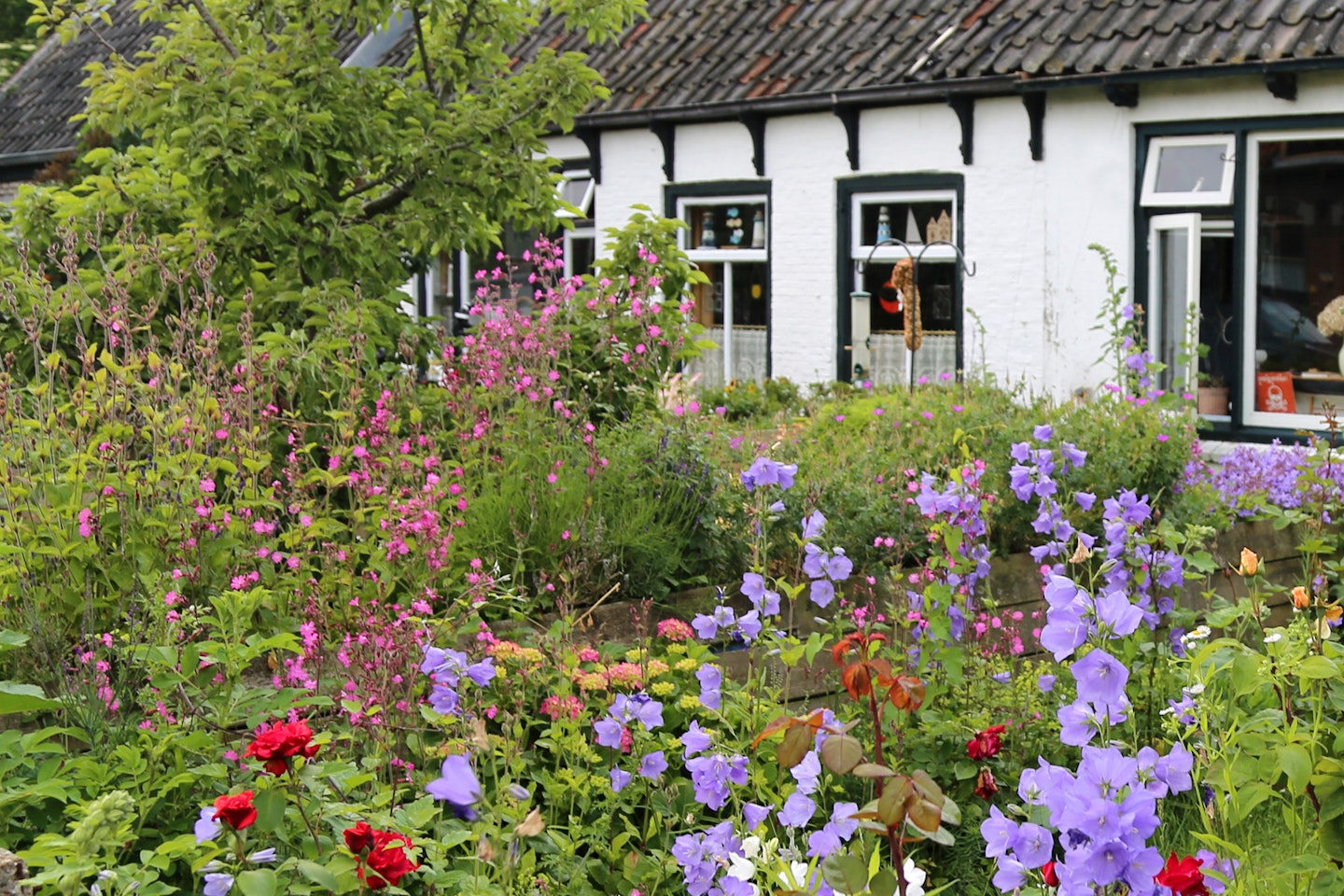 Planted-up front gardens prevent flooding, absorb pollution, keep temperatures down in summer and help to insulate homes in winter. Here's how to transform a dreary space into a horticultural haven – with kerb appeal.
10 inspirational front garden ideas
1) Transform your front door
Boring front door? Flank it with specimen plants! Common box looks classy all year round. If you're worried about box blight, opt for a pair of standard bay trees or spirals of cupressus 'Goldcrest'.
For sunny doorways, group pots of aeonium en masse at either side for maximum impact – 'Zwartkop,' an evergreen variety with purply, almost black rosettes, is a real eye-catcher.
2) Pep-up your path
Observe the golden rule: make sure paths are wide enough for access when laden with shopping! Brick paths lined by pots or low-growing box ooze charm at period properties, while chequered tiles enhance Victorian terraces.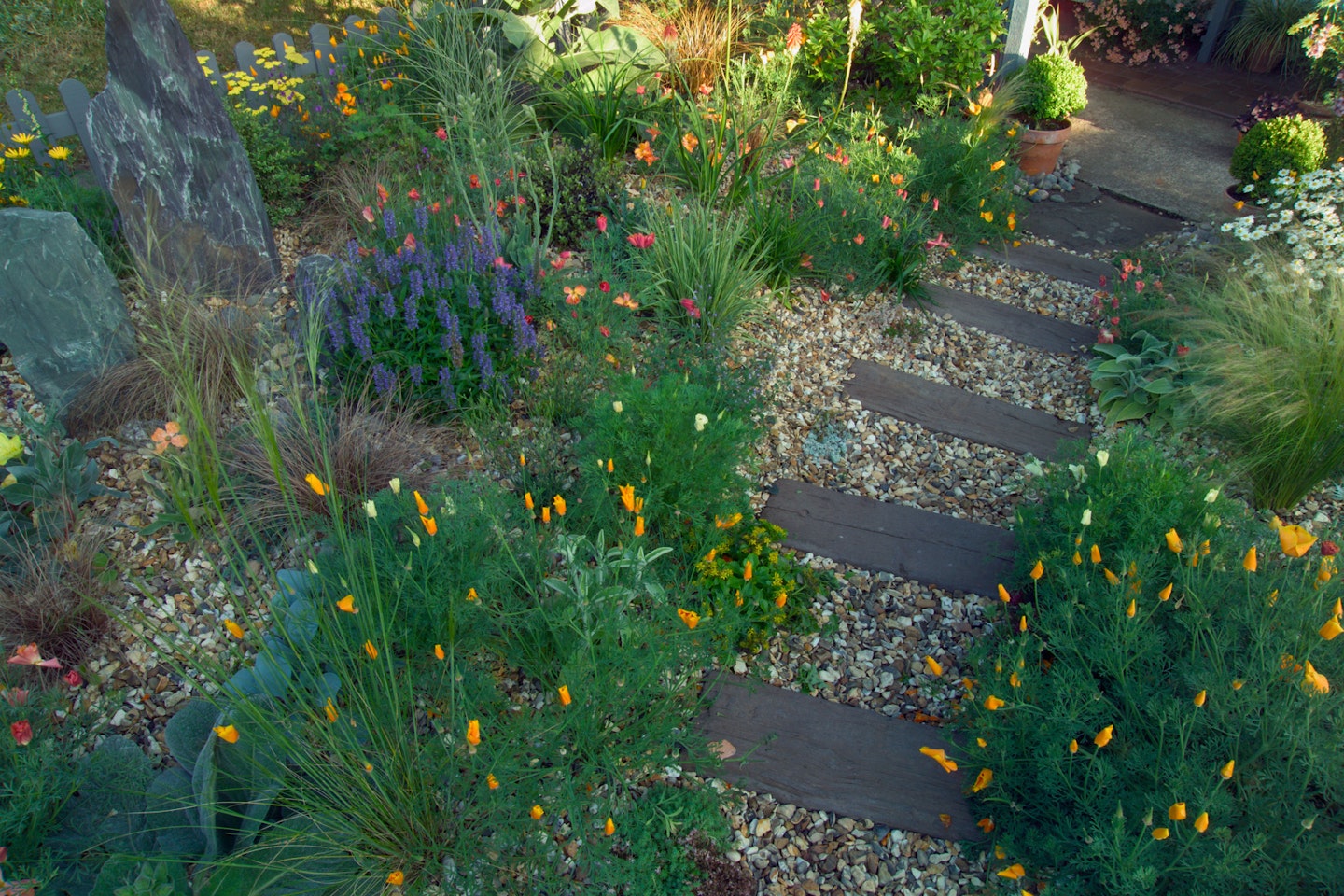 For a contemporary look, grey is the colour of paving slab that's on-trend, while porcelain is this year's must-have landscaping material. Avoid decking for paths or steps because it can become slippery when wet or icy.
3) Create a seaside theme
Seaside gardens are fun, even if you live miles inland. Opt for pebbles over gravel for a natural beach look, choosing plants that'll recreate a windswept wilderness. Sea holly (Eryngium) is a must for its prickly, architectural blooms while Echium vulgare throws out spikes of violet-blue flowers that are loved by bees.
Low-growing, sun-loving thrift (Armeria maritima) is smothered with pink flowers while sea kale (Crambe maritima) is an eye-catcher with its shrivelled, wrinkly foliage. The cabbage palm (Cordyline australis) creates an instant coastal look.
4) Disguise ugly bins
Earmark an area of the front garden with good access from the street to store ugly wheelie bins and recycling boxes. Areas of dense shade or poor soil are ideal.
A multitude of self-assembly bin stores are available online, many of which can be painted in a colour of your choice. Or plant an area of hedge to disguise the bins.
5) Plant a small tree
Compact trees can put on a stunning display without blocking light from your windows or the roots interfering with foundations. Consider cornus 'Eddie's White Wonder' – a small deciduous tree or multi-stemmed shrub that's smothered in creamy-white flowers in spring and displays rich tones of red in autumn.
Although malus 'Golden Hornet' is deciduous, trees hold their bright golden-yellow fruits into winter, putting on stunning displays of white flowers in spring. Salix caprea 'Kilmarnock' is a pendulous, specimen front garden favourite that heralds the arrival of spring with a show of silvery-grey catkins.
6) Pick heavy pots
Planters can catch the eye of light-fingered passers-by – so avoid small pots and opt for big, heavy containers that crooks can't do a runner with. Weighty glazed terracotta or large troughs made of timber decking are ideal, but if you only have big plastic pots or lightweight fibreclay containers, pop a few bricks in the bottom (taking care not to block drainage holes).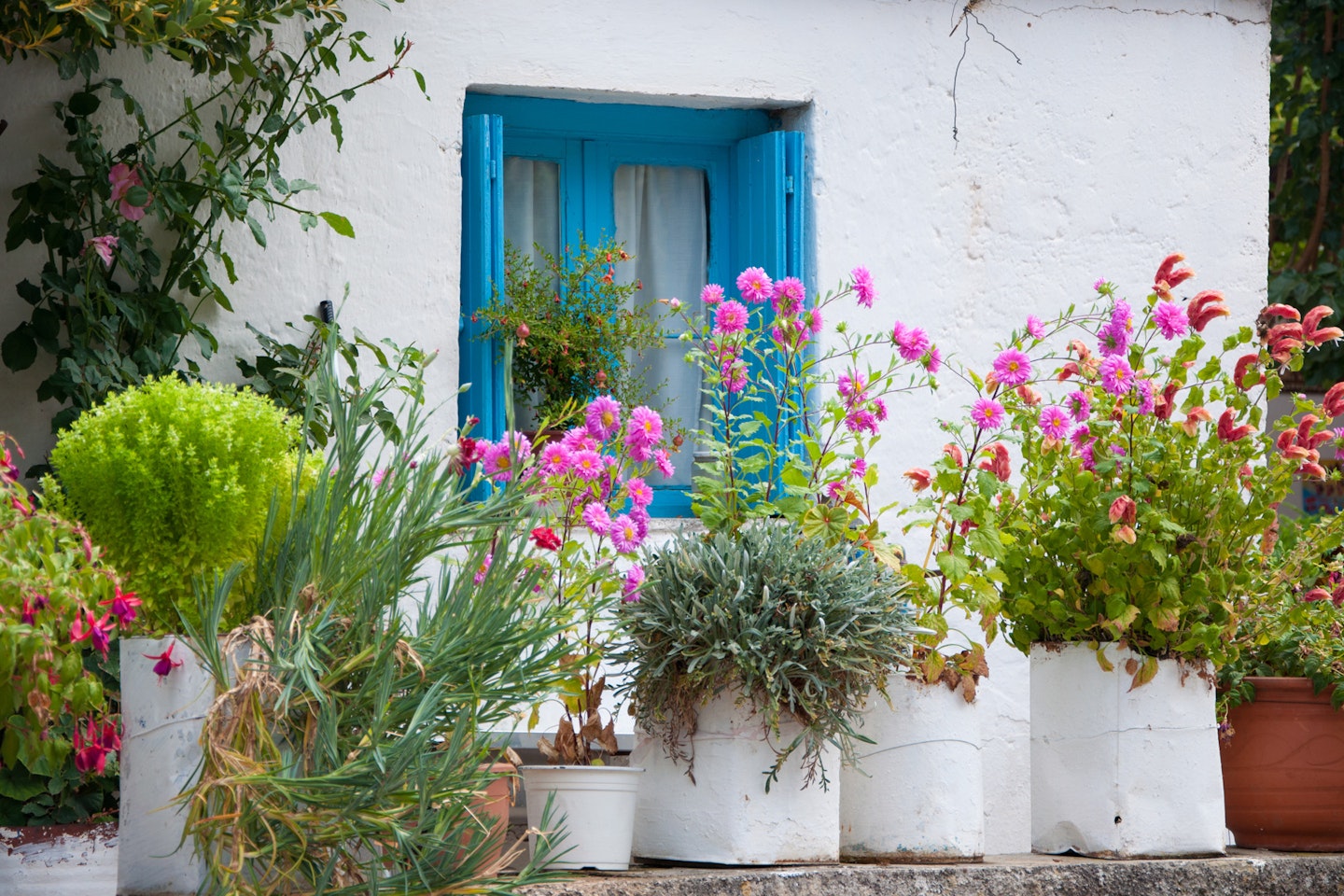 The extra weight will make thieves think twice. Jazz up your views from the house with window boxes of pelargoniums, viola, calibrachoa (mini trailing petunias), nasturtium and impatiens.
7) Hide walls with climbers
Whether you live in a Victorian terrace or country cottage – or simply want to hide an ugly facade, you're spoiled for choice with climbers. For delightful fragrance by your front door, try a climbing rose such as 'Graham Thomas' (yellow flowers with tea fragrance) or to smother large buildings grow 'Constance Spry' (cupped pink blooms and myrrh fragrance).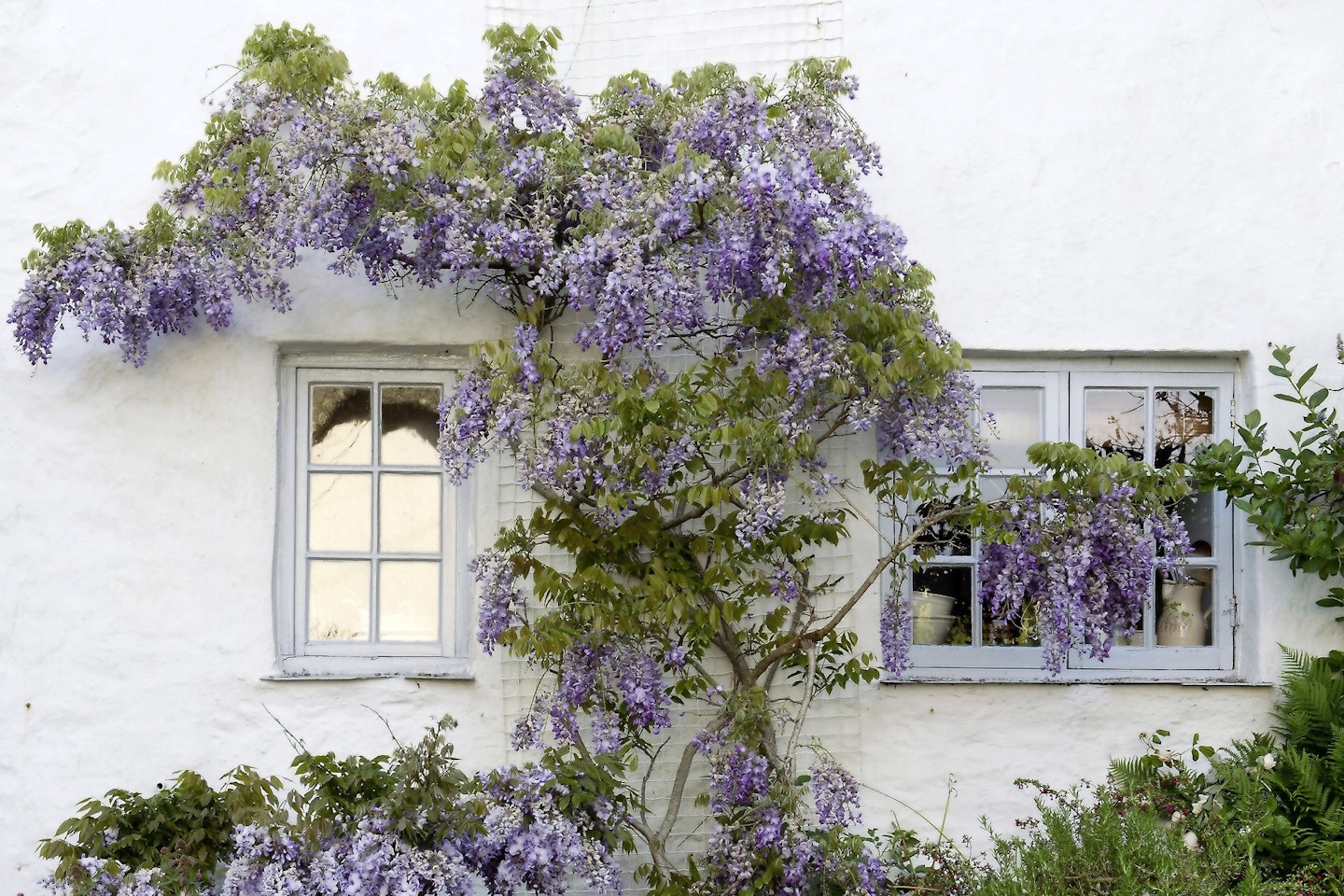 Climbing hydrangea (Hydrangea petiolaris) is self-clinging with showy white flower heads while star jasmine (Trachelospermum jasminoides) bears wonderful pure-white, fragrant blooms. If you're happy providing lots of support and regular pruning, plant wisteria for a breath-taking, quintessentially English display of springtime flowers.
8) Gravel or lawn?
Lawnsprovide a habitat for insects and help to absorb rainwater. Formal lawns with straight edges work best in front gardens.
However, a tiny front lawn can be a nuisance to maintain, especially if you have to drag a lawnmower through the house. In such cases, slate chippings, gravel or pebbles can make an attractive low-maintenance feature.
9) Plant slow-growing shrubs
Make slow-growing, low-maintenance shrubs the backbone of your front garden – they'll be vital for interest in winter when everything else is bare. Fill big gaps with Photinia fraseri 'Red Robin' (grown for its gorgeous red young foliage) and consider Daphne odora 'Aureomarginata' if you're after a compact evergreen that bears sweetly scented pink flowers in winter.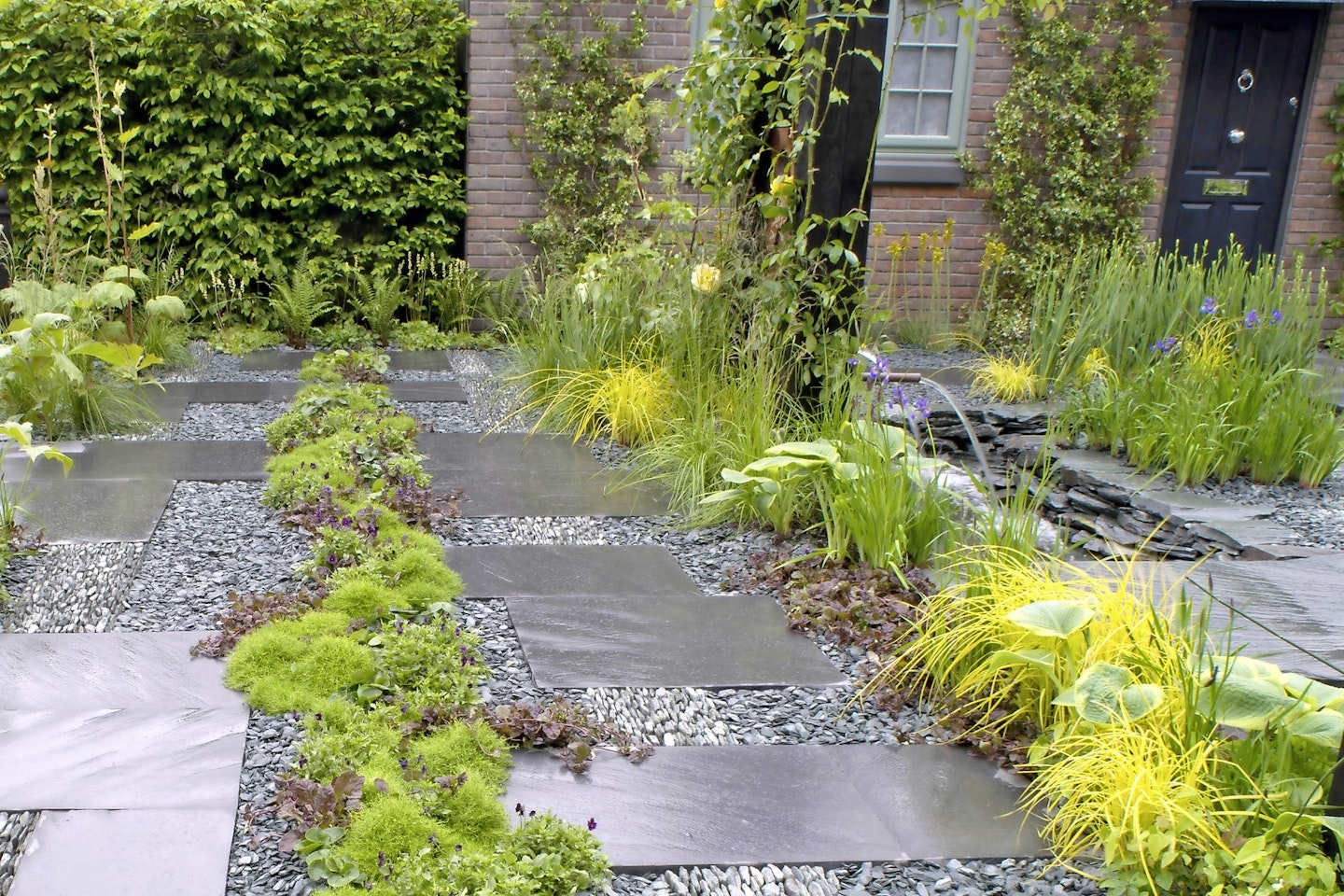 Choisya ternata with its scented, star-shaped flowers, is another winning evergreen for front gardens, while a mature ceanothus is a sight to behold in spring, when shrubs are smothered in electric blue flowers. For sun-soaked spots, lavender is a must, while poor, nutrient-depleted soil is perfect for rock rose (Cistus purpureus), which will repeat-flower profusely all summer.
10) Screen traffic with hedging
Hedge or brick wall? It's a no-brainer. Aside from being cheaper, hedges create habitats for birds and insects, filter winds, reduce noise and absorb pollution.
Yew, beech and privet are popular, or for a rapid, dense evergreen hedge that can grow by up to 60cm per year, plant Lonicera nitida.
Laws about paved front gardens
In 2008, a year after severe flooding caused £3billion-worth of damage in the UK, rules concerning permitted development rights that allowed homeowners to pave entire front gardens for parking without planning permission were changed. The move aimed to halt the rise of paved front gardens that cannot absorb rainwater, causing streets to flood.

Now, if more than five square metres of front garden is to be covered with impermeable paving, planning permission is required. Application costs around £150, scale plans are required and a decision can take up to eight weeks.

However, the government says you do not need planning permission if a new or replacement driveway of any size uses permeable or porous surfacing, or if rainwater is directed to a lawn or border where it can drain naturally.
Can cars and plants co-exist?
Yes - with a clever design! A driveway made from gravel, porous asphalt or permeable block paving is exempt from planning permission.

A simpler solution is to create wheel tracks – two paved tracks that are 300-600mm wide where your car's wheels will go (lay on a sub-base so paving can cope with the weight of a vehicle). The surrounding area can be laid to grass, gravel or planted with ground cover.

Matrix pavers (often called cellular paving) are hexagonal cells that hold aggregates such as gravel, creating good drainage. Similar grass reinforcement products are available, allowing a car to be parked on lawn areas in all weathers, without the wheels creating a mud bath.